Yesterday was the greatest day of my life, thanks to a blocked field goal which allowed the heroic Washington Redskins to defeat the Dallas Cowboys in the last second of the game. It is encouraging to see that, against all odds, good does sometimes triumph over evil.
Unfortunately, good quite often takes its sweet time to sink its teeth in and do some really earnest triumphing, while evil just sits on its fat ass and does as it pleases. In case it's not immediately obvious that I'm talking about Jennifer Lopez here, and the fact that she hasn't been jailed yet for her crimes against animals and fashion (not to mention her work in "Monster-in-Law"), check out what she wore at an award ceremony in New York this weekend: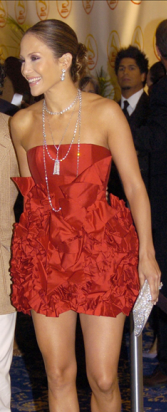 Seriously, that woman never ceases to find new ways to frighten me.