If you haven't given up wool yet, here are five reasons to make that commitment to animals now: Faith, Lily, Mae, Pete, and Lucy. These are some of the sheep whose suffering was documented by a group of concerned Australians who have been wrangling with do-nothing authorities to help a horribly neglected flock.
This is Faith before and after treatment for flystrike.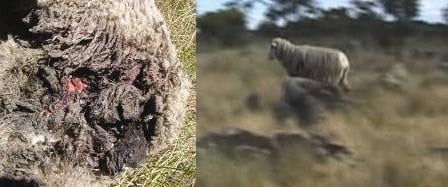 The investigators photographed the bodies of dead and dying sheep around a Smeaton, Australia, property. One of the carcasses was contaminating the only readily available water source for the living sheep.
Many of the sheep on the property are being eaten alive by maggots. This condition is called "flystrike," and it is preventable with proper attention and care. In Australia, sheep farmers use a barbaric mutilation called "mulesing" in a crude attempt to prevent flystrike, but it did not help Pete or Lucy, who had advanced flystrike and died soon after the group found them. Lucy had one of the worst cases of flystrike that one investigator had ever seen: "Severely fly struck she was close to death and of course extremely distressed. She was panting hard, eyes wide with terror but unable to rise. Lucy had been mulesed, however like millions of other sheep in this country still suffered the horrors of flystrike."
Lucy's flystrike was so debilitating she couldn't get up off the ground.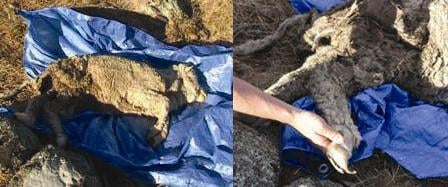 Flies were eating away at Pete.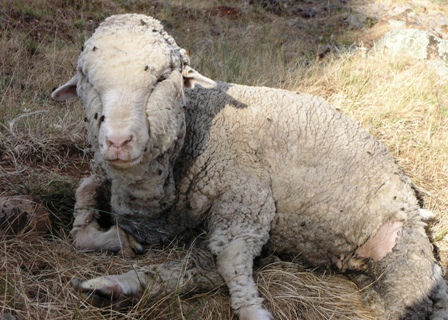 After repeated attempts to get the Department of Primary Industries to take action, local citizens attempted to help some of the ewes on the Smeaton property who had babies who depended on them for survival. Faith's injuries were successfully treated, but Lily and Mae had to be taken to a veterinarian and euthanized. Their lambs are unlikely to survive without them.
Lily's leg had been eaten away.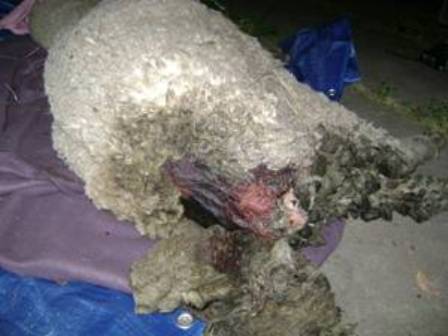 Mae's hindquarters were a typical result of flystrike.
The appalling conditions on the Smeaton farm are not an isolated case of neglect and abuse. Domesticated sheep are vulnerable to flystrike because they have been bred to have wrinkly skin that produces an unnatural amount of wool. Breeding for "bare breech" is one option that would make sheep less vulnerable, but, in Australia, which produces 30 percent of the world's wool, the vast flocks of sheep cannot be given the individual care and attention necessary to prevent flystrike and other illnesses. After enduring these conditions, Australian sheep are crammed onto filthy boats for live export to the Middle East—a trip that many do not survive—where they are dragged to slaughter and have their throats cut while they are conscious and struggling.
The best way to help Australian sheep is to avoid buying any wool, as it is difficult to know where wool originates. Urge the Australian prime minister to make this kind of cruelty to lambs illegal.
Written by Heather Drennan