And here are a few recent ones:
PETA's Lettuce Ladies could barely keep up with demand during their veggie dog giveaway in Baltimore. One eager fan was hugely relieved to learn that the dogs were indeed intended for hungry two-legged animals.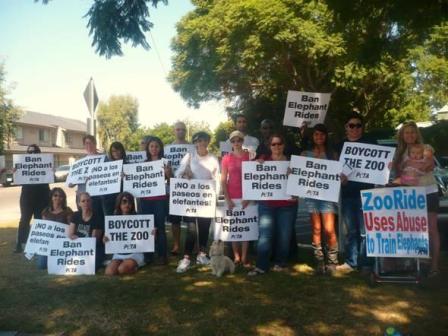 Caring folks visited the Santa Ana Zoo to remind both zoo officials and visitors that imprisoned elephants who express their frustrations over their miserable confinement can be very dangerous—and that forcing them to give rides is outrageously irresponsible and cruel.
These "chickens" ran for their lives in a McDonald's-sponsored marathon in Chicago.
Thousands recently gathered in Washington, D.C., for the One Nation Working Together rally on the National Mall—among them were PETA reps who offered up the many reasons why going vegan is the most logical, responsible choice.
You can help animals, meet caring people, and get in on the action too!
Written by Karin Bennett