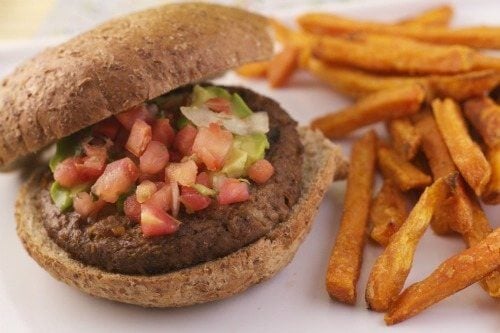 There's nothing small potatoes about the major vegetarian offerings at minor-league baseball stadiums around the country. Putting the "farm" in "farm team," small-town baseball stadiums are offering up garden-fresh delights such as black-bean burgers, fruit sorbets, and corn dogs made from hearty plant protein. PETA managed to narrow the list down to 10 "MVPs" (mouthwatering vegetarian plates) that hit home runs with fans seeking healthy, tasty in-between-innings fare:
1. Tulsa Drillers' ONEOK Field
Shooting up to number one from fifth place in last year's ranking, ONEOK Field has an extensive vegetarian menu that would make a restaurant envious. In addition to specialty veggie dogs on gourmet buns and homemade veggie burgers on pretzel buns, fans can enjoy a tofu noodle entrée, "meaty" portobello mushroom burgers, bean burritos, tofu burritos, and fresh-fruit cups.
2. Durham Bulls' Durham Bulls Athletic Park
Moving up a notch in the standings from last season to claim second place is the Durham Bulls Athletic Park, thanks to the mock-chicken nuggets, meat-free corn dogs, and hearty tofu burrito with black beans and pico de gallo. 
3. Trenton Thunder's Arm & Hammer Park
Arm & Hammer Park is debuting on PETA's list this year, earning a spot in the top three with such crowd favorites as veggie dogs and burgers, hearty vegetarian chili, a portobello mushroom and grilled vegetable sandwich, and a fruit sorbet that can be jazzed up with mix-ins of strawberries, blueberries, mangos, and bananas. 
4. Fort Wayne TinCaps' Parkview Field
Parkview Field has moved up two spots from last year, thanks to an extensive menu of delicious options, such as the black-bean burger, meat-free burrito, fresh vegetable wrap, peanut butter and jelly sandwich, hummus with vegetables, fresh fruit, beans, and grilled corn.
5. Lakewood BlueClaws' FirstEnergy Park
No one is singing the blues at FirstEnergy Park, where lovers of hearty vegetarian fare can fill up on veggie burgers and dogs, meat-free walking tacos, portobello mushroom sandwiches, and even Oreo cookies (yes, they're vegan!).  
6. Albuquerque Isotopes' Isotopes Park
The Isotopes got their name from the long-running FOX series The Simpsons, and vegetarian Lisa Simpson would agree that the team has done meat-free fans proud. Albuquerqueans can munch on veggie dogs, bean burritos, Indian tacos (made with fry bread instead of corn shells), wok-fried noodles with veggies and teriyaki sauce, fresh salads, and fruit or vegetable trays.
7. Dayton Dragons' Fifth Third Field
As Chrissie Hynde once sang, "ay, oh, way to go, Ohio"! There's a lot for a vegetarian such as Chrissie to love at Fifth Third Field, including veggie dogs and burgers, black-bean burritos or burrito bowls, veggie wraps, salads, and fruit.
8. Eugene Emeralds' PK Park
The Eugene Emeralds lived up to their green name this year, giving fans yummy, eco-friendly vegetarian choices such as veggie hot dogs and burgers, meat-free burritos, beans and rice, grilled corn on the cob, and fruit salad.
9. Sacramento River Cats' Raley Field
There are 21—count 'em—different types of veggies in Raley Field's famous stir-fry, but if you're a River Cats fan in search of even more variety, try the vegetarian sausage with grilled onions and peppers, the chipotle black-bean burger, the baked potato, the vegetable sandwich, or a tostada salad with beans.
10. Memphis Redbirds' AutoZone Park
AutoZone Park is a hot zone for delicious vegetarian fare, such as veggie hot dogs, spicy black-bean burgers with house-made Memphis BBQ chips, baked potatoes, a fresh-fruit medley, and salad wraps.
Congrats as well to the Pawtucket Red Sox's McCoy Stadium, the Nashville Sounds' Herschel Greer Stadium, the Frederick Keys' Harry Grove Stadium, and the South Bend Silver Hawks' Stanley Coveleski Regional Stadium for scoring honorable mentions. And a big shout-out to Veggie Happy for its efforts to get athletic stadiums to offer more vegetarian and vegan fare.