Confessions of a Lean, Mean, Vegan Cheerleading Machine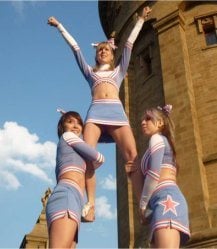 The following article was written by PETA intern Simone Wolf, who is also a cheer coach at Rhythm 'n Cheer Allstars in Mannheim, Germany.
There are plenty of vegan athletes who show that they are stronger and healthier than their meat-eating competitors. I am a coach to more than 50 cheerleaders in Germany, and my vegan diet gives me the energy that I need to stay active in the world of competitive sports. After all, a normal cheer practice for my team consists of a combination of weight training, tumbling, stunting, and dance cardio for four hours a day, five days a week.
Besides being the head coach of five teams, I am also an active member of the senior team. Because of my strength, I am a "base," which means that I have to balance, throw, and catch the top flyers during complicated—and sometimes dangerous—stunts.
One of the most common misconceptions regarding being a vegan athlete is voiced by the always-annoying question "Where do you get your protein?" For me—and for many vegan athletes—getting enough protein is never a problem. My favorite sources are soy milk, tofu, beans, and sprouts. Unlike some of my team members, I am not tired after training—another advantage of my vegan diet. And there are more: I feel better and my body is healthier, I help save more than 100 animals each year, and I do something great for the environment by reducing my carbon footprint.
To encourage my team members to eat less meat, I organized a vegan dinner last summer. They all loved my meatless lasagne and egg- and dairy-free desserts, including vegan cookies. I plan to continue this tradition by organizing a vegan barbecue, and I'll invite all 58 of my team members to attend!
Are you a vegan athlete who proves that vegans are strong, powerful, and healthy? Share your story in the comments below.
Respond