Vegetarian Paella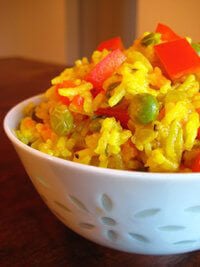 Through a little bit of research, I found that there is no right or wrong way to make this traditional Spanish rice dish.
You can try switching up the vegetables or adding fried tofu, soy chicken, or vegan chorizo. You can even swap out one of the key ingredients, saffron—the expensive and hard-to-find spice—with the more common turmeric. The possibilities are endless—well, almost—so enjoy.
Vegetarian Paella
1/4 cup extra virgin olive oil
1 medium onion, chopped
1 cup grated carrot
1 1/2 Tbsp. chopped garlic
1 cup basmati rice
1/4 tsp. saffron (may substitute 1 1/2 tsp. turmeric)
1 green bell pepper, seeded and chopped
1 red bell pepper, seeded and chopped
1 cup green peas, fresh or frozen
1 3/4 cups vegetable broth
2 Tbsp. Earth Balance margarine
1/4 cup chopped parsley
Salt and pepper, to taste
Heat the oil in a large, high-sided pan.
Add the onions and sauté for 5 minutes over medium-high heat.
Add the carrots and garlic and cook for 2 minutes.
Place the rice in the pan and stir well to coat with the oil and mix the ingredients.
Add the saffron or turmeric, chopped peppers, peas, and broth and bring to a simmer. Cook, covered, for 20 to 25 minutes, or until all the liquid is absorbed and the rice has softened.
Stir in the Earth Balance and parsley and season with salt and pepper.
Makes 4 to 6 servings
Related Posts
Respond
In This Section