Veganize It: Baked Mac 'n' Cheese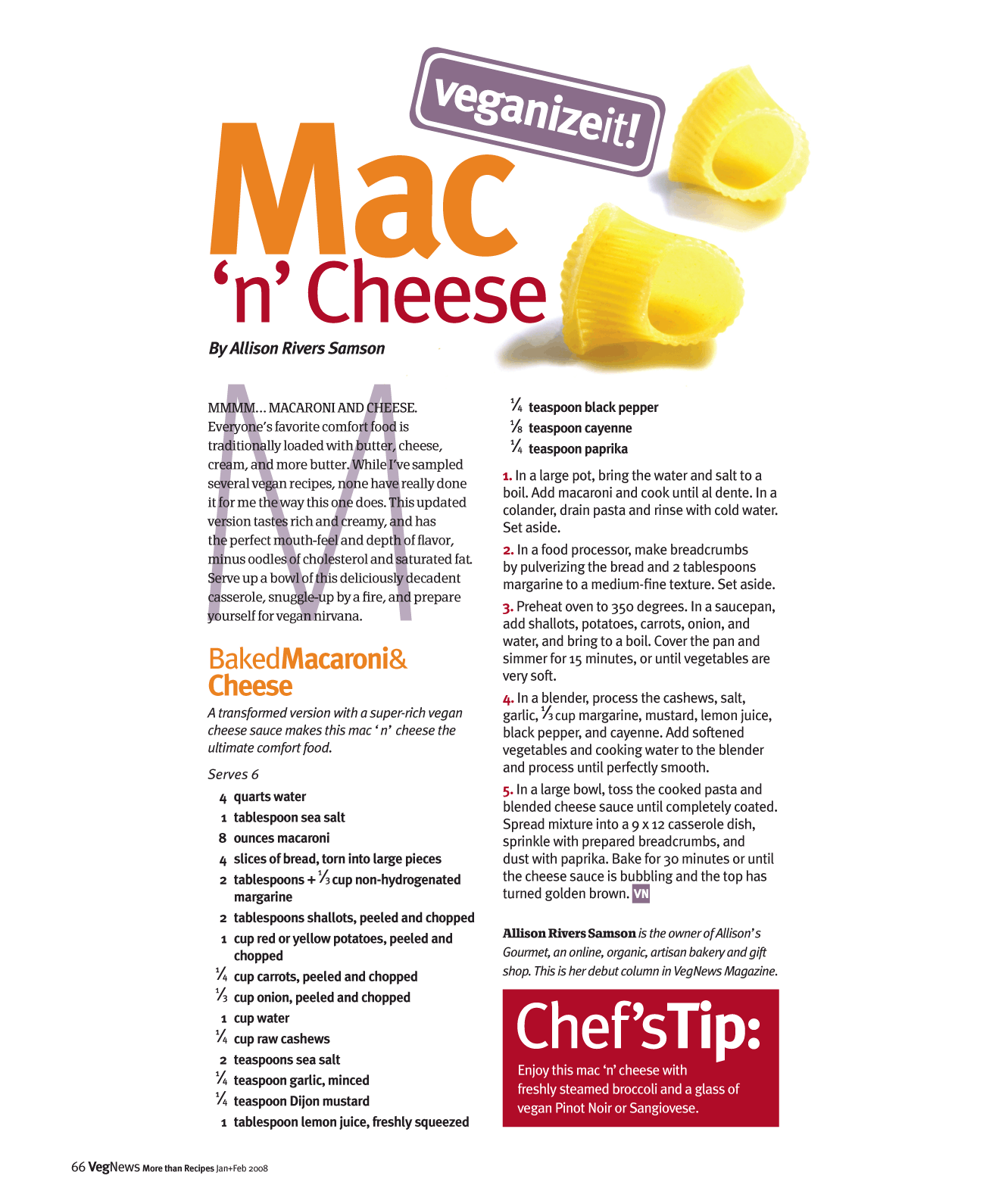 GIF >>
The following article includes an original recipe by Allison Rivers Samson. Allison is the owner of Allison's Gourmet, a popular and renowned vegan bakery, confectionery, and chocolaterie. She is also the author of the award-winning column "Veganize It!" in VegNews magazine.
Macaroni and cheese has earned its place as an American comfort-food staple. This recipe boasts the traditional gooey goodness, but does so in an innovative way that spares us the cholesterol and spares cows a life of misery on dairy farms.
This recipe is unique in that it does not call for tofu, nutritional yeast, or even soy cheese as many vegan mac 'n' cheese recipes do. You might be shocked when you see the result of combining fresh vegetables and cashews—it creates a rich and creamy sauce!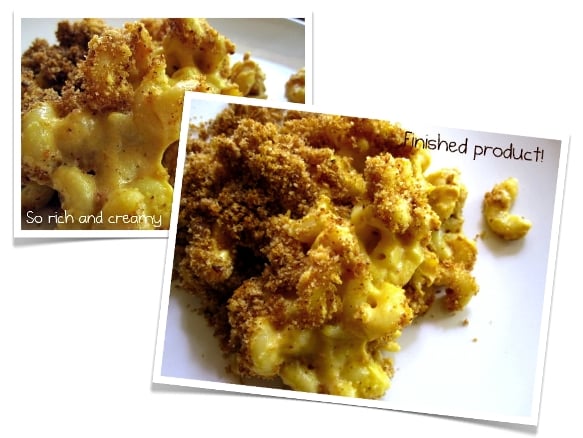 Trust me when I say that this dish is delectable! It's sure to become a mainstay at family gatherings, picnics, and potlucks. So what are you waiting for? Head to the grocery store, gather the ingredients below, and prepare your taste buds for a luscious treat!
Baked Mac 'n' Cheese
1 gal. + 1 cup water
5 tsp. sea salt
8 oz. macaroni
4 slices bread, torn into large pieces
1/3 cup + 2 Tbsp. nonhydrogenated margarine
2 Tbsp. peeled and chopped shallots
1 cup peeled and chopped red or yellow potatoes
1/4 cup peeled and chopped carrots
1/3 cup peeled and chopped onions
1/4 cup raw cashews
1/4 tsp. minced garlic
1/4 tsp. Dijon mustard
1 Tbsp. freshly squeezed lemon juice
Black pepper, to taste
Cayenne pepper, to taste
Paprika, to taste
Preheat the oven to 350°F.
In a large pot, bring 1 gallon of water and 1 tablespoonful of sea salt to a boil. Add the macaroni and cook until al dente. In a colander, drain the pasta and rinse with cold water. Set aside.
In a food processor, make breadcrumbs by pulverizing the bread and 2 tablespoonfuls of margarine until the mixture has a fine texture. Set aside.
In a saucepan, add the shallots, potatoes, carrots, onions, and 1 cup of water and bring to a boil. Cover and simmer for 15 minutes, or until the vegetables are very soft.
In a blender, process the cashews, garlic, mustard, lemon juice, black pepper, cayenne, 1/3 cup margarine, and 2 teaspoonfuls of sea salt. Add the softened vegetables and cooking water to the blender and process until smooth.
In a large bowl, toss the cooked pasta in the blended sauce until completely coated. Spread the mixture into a 9-inch-by-12-inch casserole dish, sprinkle with the prepared breadcrumbs, and dust with paprika. Bake for 30 minutes, or until the sauce is bubbling and the top has turned golden brown.
Makes 4 servings
Recipe by Allison Rivers Samson, originally published in her column "Veganize It!" in VegNews Magazine
Respond