Tailgating Party Picks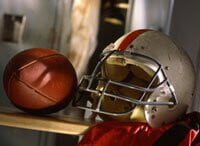 Pack up your portable grill and head to the nearest stadium, because tailgating season has officially kicked off! But leave the greasy hamburgers and barbecued chicken on the sidelines. Instead, tempt your fellow tailgaters with these meat-free favorites, or try easy heat 'n' eat crowd-pleasers like "beefy" Original Vegan Boca Burgers, Lightlife Smart Dogs, and Gardenburger Riblets, dripping with tangy barbecue sauce—they're all great on the grill!
If you're just going for the game, not the parking-lot party, you may still be able to find great vegan eats. Last year, the Edward Jones Dome, home of the St. Louis Rams, added veggie dogs to its concession-stand menus, and other stadiums are starting to follow suit.
Kickoff  "Chikin"
1/2 tsp. salt
1/2 tsp. onion powder
1 tsp. pepper
1 tsp. garlic powder
2 cups unbleached white flour
4 Tbsp. nutritional yeast flakes
4 Tbsp. mustard (yellow, Dijon, spicy brown, or your favorite)
1/2 cup water
1 box White Wave Chicken Style Wheat Meat (or your favorite chicken substitute)
3 1/2 cups canola oil (for frying)
Mix together the salt, onion powder, pepper, garlic powder, flour, and nutritional yeast in a deep bowl. In a separate bowl, dilute the mustard with the water and stir until soupy. Add 1/3 cup of the flour mixture to the mustard mixture and stir until the batter thickens (it's okay if the batter is lumpy).
Dip large chunks of the wheat meat into the mustard batter, then drop each chunk into the flour mixture and coat with the desired amount of "crust." Fry the chunks in hot canola oil on nearly high heat in a large skillet until crispy golden brown, turning as needed. Serve immediately. (Leftovers are also great straight from the fridge!)
Makes 4 servings  
 
MVP (Most Valuable Potato) Salad
6 medium potatoes
1/2 cup Nayonaise (or your favorite eggless mayonnaise)
4 Tbsp. yellow mustard
2 Tbsp. distilled white vinegar
1/2 onion, chopped
1/2 cup chopped celery
Salt and pepper, to taste
Paprika (optional)
Cut the potatoes into cubes and cook in boiling water for 20 minutes. Drain and let cool completely. Put the potatoes into a bowl, combine with all the remaining ingredients, and season to taste. Sprinkle paprika on top, if desired.
Makes 4 to 6 servings 
Half-Time Hero Sandwiches
4 submarine rolls or mini-baguettes
Vegan mayonnaise, to taste
24 veggie deli slices (turkey, ham, salami, bologna, or your favorite flavor)
8 soy cheese slices
1 red onion, sliced thin
12 tomato slices
4 red- and green-pepper slices
1 cup sliced black olives or stuffed green olives
4 cups shredded romaine lettuce
Olive oil, to taste
Salt and pepper, to taste
Slice the rolls or baguettes in half. Spread with vegan mayonnaise, if desired. Place the ingredients on the bread in the following order: deli slices, soy cheese, onion, tomatoes, peppers, olives, romaine lettuce. Drizzle with olive oil and season with salt and pepper.
Makes 4 sandwiches 
Champion Chili
1 large onion, chopped
2 cloves garlic, crushed
2-3 Tbsp. olive oil
1 lb. mushrooms, sliced
1 green pepper, chopped
1 green chili pepper or jalapeño, chopped
1 16-oz. can black beans
1 16-oz. can crushed tomatoes
1/2 cup dry textured vegetable protein granules
Chili powder and salt, to taste
Vegan sour cream (optional)
In a large pot, sauté the onion and garlic in the oil until the onions become soft. Add the mushrooms and sauté for 5 minutes. Add the peppers and sauté for a few more minutes. Add the black beans, tomatoes, textured vegetable protein, chili powder, and salt and simmer for 30 minutes. Serve topped with vegan sour cream, if desired.
Makes 6 servings 
Touchdown Dip
1 can vegetarian refried beans mixed with a small packet of taco seasoning
3/4 tub of Tofutti Sour Supreme
1 box Zatarain's Dirty Rice Mix, cooked according to the package directions
1 1/2 cups vegetarian ground meat crumbles (the crumbles can be cooked with a little garlic, or just let them thaw)
1 cup thick salsa
1-2 ripe avocadoes, diced, or your favorite guacamole
Shredded cheddar soy cheese
Sliced black olives, scallions, tomatoes, and fresh cilantro (for garnish)
Spread the refried beans in the bottom of a pie dish. Then layer in the "sour cream," dirty rice, crumbles, salsa, and avocadoes. Sprinkle the top with cheddar soy cheese and garnish with black olives, scallions, tomatoes, and/or cilantro. Serve with corn chips.
Makes 8 servings 
Respond