Vegan Stuffed Berry Pastries
Written by
PETA
|
October 28, 2013
One of my favorite breakfast treats when I was a kid were Pop-Tarts. So when I came across a veganized recipe for these stuffed berry pastries, I knew I needed to try it! With simple ingredients and an easy-to-follow recipe—these are a must-try for vegan pastry and baking connoisseurs. Adults and kids alike will rejoice and eat these up!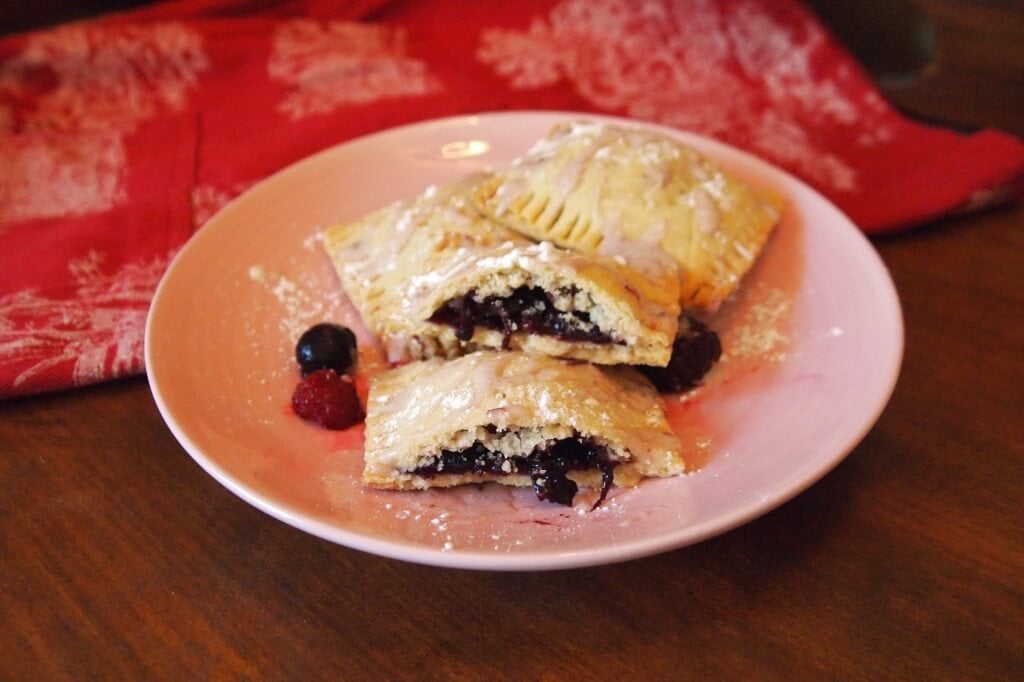 Vegan Stuffed Berry Pastries
Adapted from MinimalistBaker.com
1 1/2 cups frozen mixed berries
2 Tbsp. maple syrup
1 Tbsp raw sugar, plus more for garnish
2 cups flour, plus more for rolling out the dough
Pinch salt
1 1/2 cups vegan margarine (we used Earth Balance brand)
6 Tbsp. ice-cold water
1/2 cup powdered sugar
Preheat the oven to 375°F and line a baking sheet with parchment paper.
Place the frozen berries in a small saucepan over medium heat. Cover with a lid and cook for 5 to 8 minutes, stirring occasionally and smashing down with a spoon. Add the raw sugar and maple syrup and mix well. Transfer to a bowl to cool.
Mix the flour and salt together in a large bowl. Add 1 cup of the vegan margarine and stir until well combined. Slowly add the cold water one tablespoon at time and mix with a wooden spoon until a dough starts to form. The dough should be moist enough to form into a ball but not too sticky. Add more flour if necessary.
Sprinkle flour on a clean countertop or other surface, then transfer the dough to the floured surface. Using a rolling pin, roll the dough into a large rectangle. Cut into 12 equal squares and carefully transfer each to the baking sheet. Place about 2 tablespoonfuls of the berry mixture onto 6 of the squares, leaving a 1/4-inch border to seal the edges. Using a finger or fork, dot water around the edges so that the squares will stick together. Cover the 6 filling-topped squares with the remaining 6 squares and seal with a fork. Poke a few holes in the top of each pastry, rubbing a tiny bit of vegan butter on top of each. Sprinkle with raw sugar and bake for 25 to 30 minutes.
While the pastries are cooking, combine the powdered sugar, 1 teaspoonful of the berry mixture, and the remaining vegan margarine in a bowl and mix well to form a glaze.
Remove the pastries from the oven and let cool for a few minutes, then top with the glaze.
Makes 8-10 servings
Respond