Vegan Jalapeño Popper Grilled Cheese Sandwich
There is something comforting about a grilled cheese sandwich. The creaminess of melted cheese combined with crunchy toasted bread is an American classic. But classics are meant to be shaken up a bit—which is exactly what happened with this jalapeño popper grilled cheese sandwich!
The inclusion of jalapeño adds a whole new level of flavor. Can you handle the heat? Try the recipe below and see for yourself. Enjoy!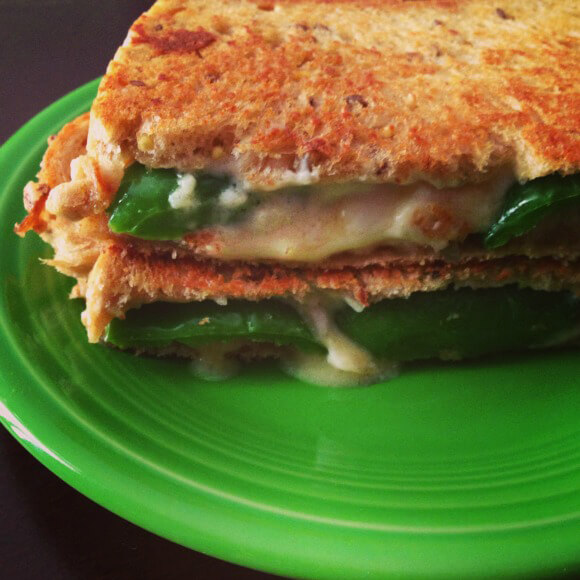 Vegan Jalapeño Popper Grilled Cheese Sandwich
1 jalapeño, sliced lengthwise and seeded
2 slices bread
2 tsp. vegan margarine
1 Tbsp. vegan cream cheese spread
1/4 cup vegan cheese shreds or 2 slices vegan cheese
1 tsp. panko bread crumbs
Preheat the oven to 400°F.
Place the jalapeño in a baking dish and roast for 15 minutes.
Spread the vegan margarine on one side of each bread slice, then spread the vegan cream cheese on the opposite side. Top with the vegan cheese shreds and place on a heated frying pan.
Allow the vegan cheese to melt slightly, then push the jalapeño slices into the melted vegan cheese. Sprinkle one bread slice with bread crumbs, then top with the other bread slice, vegan cheese side down.
Rotate as needed until both sides are golden brown and crispy.
Makes 1 serving
Respond