Vegan Ice Cream Flavors to Cool You Down This Summer
Written by
PETA
|
July 6, 2015
Look around you, and you'll see new vegan ice cream options popping up everywhere—because you, the consumer, expressed an interest in having these products available. Many major ice cream companies now offer nondairy ice cream, which is a huge step forward for animals. Keep up the good work. And while you're at it, check out these flavors of vegan ice cream:
This brand offers Pomegranate Chip, Mint Marble Fudge, Neapolitan, Snickerdoodle, Salted Caramel Cluster, Cookies and Cream, German Chocolate, and more—and the company uses soy, almond, coconut, and cashew milks as the base of the various dairy-free flavors! So Delicious also offers ice cream bars and sandwiches. (Find these products.)
This brand offers Vegan Mocha Fudge, Mint Chocolate Chip, Vanilla, and Chocolate flavors of ice cream, all with an almond-milk base. It also carries vegan FrozFruit bars. (Find these products.)
Check out the Tofutti Cuties line of ice cream sandwiches (available in Key Lime, Peanut Butter, Wild Berry, Mint Chocolate Chip, and Chocolate!). In addition, the Tofutti brand offers Yours Truly Cones and pints of Vanilla Almond Bark, "Better" Pecan, and Chocolate Cookie Crunch vegan ice cream, among others. (Find these products.)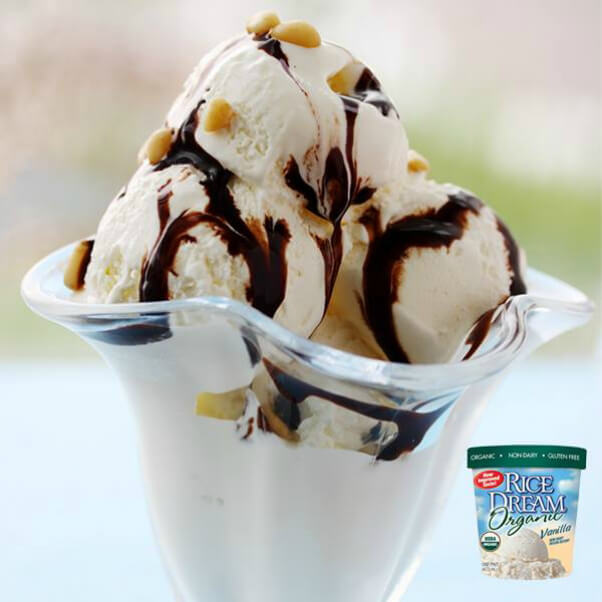 The dairy-free ice creams in these lines come in flavors such as Cappuccino Swirl, Praline Crunch, Cookies and Dream, Orange Vanilla Swirl, Strawberry, and more. You can also find Rice Dream ice cream bars and Frozen Dessert Bites, and Coconut Dream Frozen Dessert Bites. (Find these products.)
A newer brand, Coconut Bliss offers flavors that are pure bliss. Try Mocha Maca Crunch, Ginger Cookie Caramel, Chocolate Walnut Brownie, or Pineapple Coconut. (Find these products.)
PGJsb2NrcXVvdGUgY2xhc3M9InR3aXR0ZXItdHdlZXQiIGRhdGEtd2lkdGg9IjUwMCI+PHAgbGFuZz0iZW4iIGRpcj0ibHRyIj5NaXggdXAgeW91ciBQaW5hIENvbGFkYSYjMzk7cyB3aXRoIDxhIGhyZWY9Imh0dHBzOi8vdHdpdHRlci5jb20vaGFzaHRhZy9jaWFvYmVsbGFnZWxhdG8/c3JjPWhhc2giPiNjaWFvYmVsbGFnZWxhdG88L2E+JiMzOTtzIE1hbmRhcmluIFBpbmVhcHBsZSA8YSBocmVmPSJodHRwczovL3R3aXR0ZXIuY29tL2hhc2h0YWcvTmF0aW9uYWxQaW5hQ29sYWRhRGF5P3NyYz1oYXNoIj4jTmF0aW9uYWxQaW5hQ29sYWRhRGF5PC9hPiA8YSBocmVmPSJodHRwczovL3R3aXR0ZXIuY29tL2hhc2h0YWcvZ2V0c2Nvb3BlZD9zcmM9aGFzaCI+I2dldHNjb29wZWQ8L2E+IDxhIGhyZWY9Imh0dHBzOi8vdHdpdHRlci5jb20vaGFzaHRhZy9nbHV0ZW5mcmVlP3NyYz1oYXNoIj4jZ2x1dGVuZnJlZTwvYT4gPGEgaHJlZj0iaHR0cDovL3QuY28vWEpKZ0FaSjdBVSI+cGljLnR3aXR0ZXIuY29tL1hKSmdBWko3QVU8L2E+PC9wPiZtZGFzaDsgQ2lhbyBCZWxsYSAoQENpYW9CZWxsYUdlbGF0bykgPGEgaHJlZj0iaHR0cHM6Ly90d2l0dGVyLmNvbS9DaWFvQmVsbGFHZWxhdG8vc3RhdHVzLzQ4NzMzOTUyMDc2MTY3NTc3NiI+SnVseSAxMCwgMjAxNDwvYT48L2Jsb2NrcXVvdGU+PHNjcmlwdCBhc3luYyBzcmM9Ii8vcGxhdGZvcm0udHdpdHRlci5jb20vd2lkZ2V0cy5qcyIgY2hhcnNldD0idXRmLTgiPjwvc2NyaXB0Pg==
Check out all these sophisticated sorbetto flavors: Alphonso Mango, Bartlett Pear Hibiscus, Dark Cocoa, Coconut, Mario Blackberry Cabernet, Pacific Northwest Raspberry, Sicilian Blood Orange, Sicilian Limone, White Peach Sangria, and Wild Italian Strawberry Limonata. (Find these products.)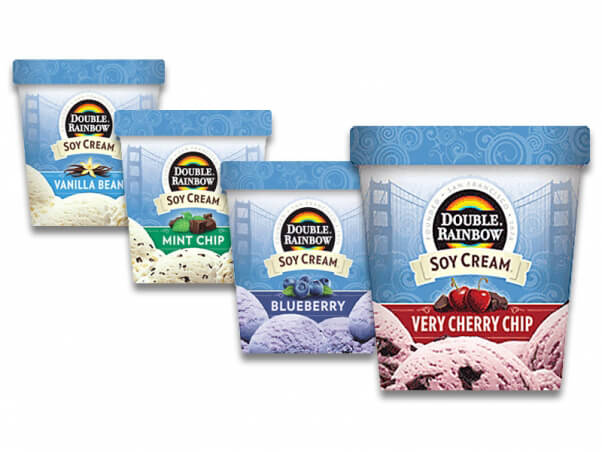 These scrumptious soy ice cream flavors are to die for, except no one had to: Blueberry, Mint Chocolate Chip, Vanilla Bean, and Very Cherry Chip. (Find these products.)
This brand uses coconut milk to create its delicious ice cream, which features these fine flavors: Cookies & Crème, Lotta Mint Chip, Creamy Coconut, PB & Chocolate, Gotta Do Chocolate, Vanilla Cha Cha Chai, Chocolate Almond Chip, Mmm…Maple Pecan, Sweet Cherry Lime, Vanilla…ahhh, and Java Crunch. (Find these products.)
Check out Trader Joe's Soy Creamy Cherry Chocolate Chip and Vanilla ice cream. (Find these products.)
Amy's Kitchen now carries four flavors of vegan ice cream: Mocha Chocolate Chip, Chocolate, Mint Chocolate Chip, and Vanilla. (Find these products.)
Ben & Jerry's has nondairy desserts made with almond milk in four flavors. (Find these products.)
Remember: Desserts, even vegan desserts, should always be consumed in moderation. So should these delicious frozen yogurt flavors, which you should check out immediately.
Respond