Cranberry–Cream Cheese Crostini
'Tis the season for holiday parties, but you might want to serve something a little more festive than chips and dip. Crostini—small slices of grilled bread topped with "cheese," veggies, or your favorite spread—are the perfect finger food to serve at a holiday party. And best of all, you can change the topping to fit the occasion.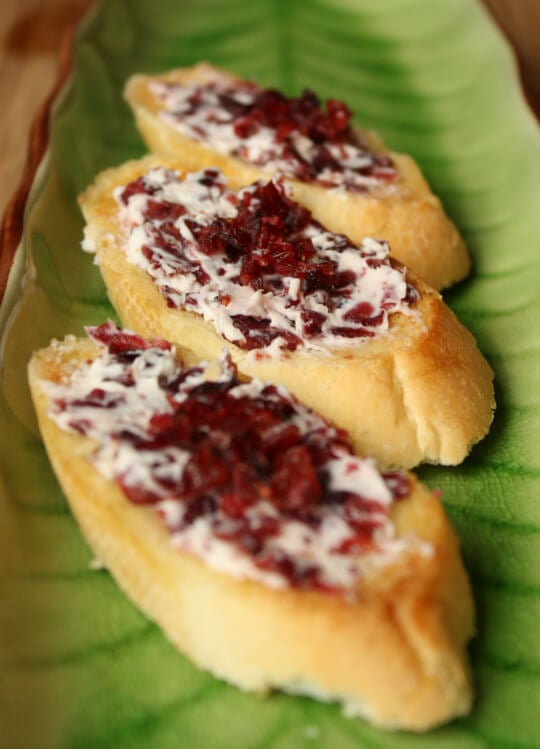 For a holiday party—whether it's Thanksgiving, Christmas, or New Year's Eve—a vegan cream cheese spread that is loaded with popular holiday ingredients works perfectly. The recipe below is simple and contains only chopped cranberries in the vegan cream cheese spread, but you could also try a spread that is laced with cinnamon and chopped walnuts or mixed with pumpkin pie filling.
The options are endless. Enjoy!
Cranberry–Cream Cheese Crostini
1 baguette
2 tsp. olive oil
1/2 cup vegan cream cheese
1/2 cup dried cranberries, chopped
Preheat the oven broiler to 450°F.
Slice the baguette on the bias into 12 pieces. Brush the olive oil onto both sides of each slice, then place on a baking sheet. Cook for about 5 to 7 minutes, or until crispy and beginning to brown around the edges.
Mix the vegan cream cheese and chopped cranberries in a small bowl until just combined.
When the bread has cooled slightly, top each slice with a dollop of the cream cheese mixture.
Makes 12 crostini
Respond