Loaded Nachos With Cashew Cheese
There is something magical about a huge plate of nachos, don't you think? Pile on your favorite toppings, fire up the oven, and indulge in this tasty treat that's perfect as a late-night snack or weekend meal or during halftime while watching the big game. Enjoy!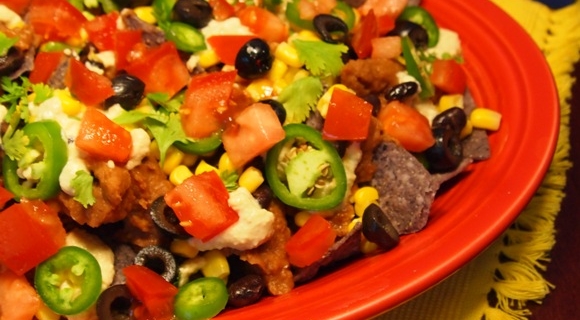 1 bag tortilla chips
12 oz. black beans
12 oz. corn
1/2 cup diced white onion
1/2 cup diced tomatoes
1/4 cup chopped cilantro
1/4 cup black olives, sliced
1 medium jalapeño, sliced
1 1/4 cups cashew cheese
1/2 cup guacamole or freshly sliced avocado
1/2 lime

Preheat the oven to 325ºF.
Spread the tortilla chips evenly on a large baking sheet.
Top the tortilla chips with the black beans, corn, onion, tomato, cilantro, olives, and cashew cheese and bake for 12 to 15 minutes.
Garnish with the guacamole or avocado and squeeze some lime juice over the top.
Makes 6 servings
Cashew Cheese
1 1/2 cups raw cashews
Cold water sufficient to cover the cashews by 2 inches
1/3 cup water
2 tsp. fresh lemon juice
2 cloves garlic
1/2 tsp. sea salt
Place the cashews in a medium bowl. Add the cold water and let soak for 2 hours. Drain.
Combine the cashews, 1/3 cup of water, lemon juice, garlic, and salt in a food processor and blend, scraping down the sides occasionally, for 5 minutes, or until very smooth.
Transfer to a small bowl. Cover and let stand at room temperature for at least 1 day and up to 2 days. Refrigerate until ready to use or for up to 5 days.
Makes 1 1/4 cups
Respond