Thanksgiving Feast: Celebrating 20 Years of Living Cruelty-Free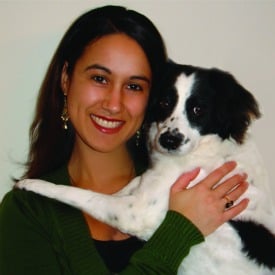 The following article was written by Daniella Ramadei.
It was 20 years ago this Thanksgiving that I was home alone the day after the holiday. My mother had kindly made a turkey sandwich for my lunch. I unwrapped it from the foil, placed it on a plate, and surrounded it with leftovers scooped from the numerous containers in the fridge. Before I sat down to indulge, I decided to walk with my companion dog, Snowball, to the mailbox so that I could flip through holiday catalogs as I ate. That decision changed my life.
"Brrr." I shook my head into Snowball's snout, rubbing noses, as I unhooked his collar after the walk. I wriggled out of my coat and slipped into a cozy fluffy robe, rolled up my sleeves, and sorted the mail. Ohhh, a PETA brochure! I had recently become a member and was excited to receive my first piece of mail—recognition of my newfound pre-teen independence. I dragged my squeaky chair closer to the table and winked down at Snowball who was sitting patiently, awaiting table scraps.
As I opened the PETA brochure, I stopped and stared at the most poignant photograph—turkeys who were barely alive mangled inside a cage. I looked at my sandwich, then the photo, then my sandwich, then the photo, and finally I saw that it was the flesh of these turkeys between my slices of bread. I emptied my plate into the garbage, made a PB&J, hugged Snowball, and tossed him bits of carrot. When my parents returned from work, my mom asked if I was tired of turkey and wanted spaghetti and meatballs instead. I answered, "Yes, but hold the meatballs, please."
I was lucky to have very supportive parents who celebrated my decision to be vegan in my food, clothing, product, and entertainment choices. While I was home for Thanksgiving last year, I finally sat my parents down and reasoned with them as to why they should go vegan. After they watched "Chew on This" and Earthlings, they finally understood that their choices were supporting cruelty to animals. They went vegan at ages 62 and 64! A year later, they are both maintaining and enjoying the variety of a vegan diet and reaping the health benefits—no more high cholesterol or high blood pressure!
So this year, I am celebrating 20 years of living cruelty-free with my family and friends by cooking them a vegan feast! The meal is as follows, and the recipe for the starred dish is below. Enjoy!
Hors d'Œuvres
Oven-Roasted Chestnuts
Mixed Olives
Steamed Artichokes
Appetizers
Fennel, Arugula, Pomegranate, Mandarin, and Pine Nut Salad
Kale, White Bean, and Tomato Soup
Main Dishes
Roasted Rosemary Cauliflower and Kabocha Squash
Grilled Peppered Asparagus
Mashed Garlic and Parsley Red Skin Potatoes
Side Dishes
Mushroom Stuffing Muffins*
Pumpernickel Bread
Tofurky Hickory Smoked Deli Slices
Sauces
Tofurky Gravy
Cranberry Bourbon Sauce
Desserts
Chocolate Mousse and Pumpkin Pudding Parfait Topped With Crumbled Maple Cookies From Trader Joe's
Carrot Cake with So Delicious Coconut Milk Vanilla Ice Cream and Cinnamon Powder
Mushroom Stuffing Muffins
1/2 cup vegan margarine
2 cups diced onion
1 1/2 cups diced celery
6 cups sliced mushrooms
1/2 cup fresh sage leaves
1 Tbsp. dried thyme
1 Tbsp. dried rosemary
6 cups cubed bread
1 cup low-sodium vegetable broth
1 Tbsp. black pepper
3 cups sliced black olives
Preheat the oven to 350ºF.
In a deep sauté pan, heat the vegan margarine with the onions and celery, stirring, for 3 minutes, or until tender.
Add the mushrooms and herbs. Cook, stirring, for 7 minutes, or until tender.
Add the bread and turn off the heat. Stir in the broth and add the pepper and olives. Let sit until the bread soaks up the liquid.
Fill a muffin pan with the mixture and bake for 15 minutes.
Makes 8 servings
Respond