Sweet-Potato Quesadillas
The following article was written by Keegan Baur.
As fall rolls around and farmers' markets and grocery stores begin stocking up on fresh, seasonal produce, such as sweet potatoes, pumpkins, squash, Brussels sprouts, and cranberries, I get pretty excited. My mind just whirrs with delicious autumn recipes to use! At this time of year, sweet potatoes are one of my favorite ingredients to cook with, and I've recently been craving a certain sweet-potato taquitos dish that I once had at Native Foods in L.A. I decided to create my own mock version of it, and this healthy quesadilla recipe is what I came up with. When quesadillas meet sweet potatoes, you know that you're in for a savory, colorful, nutrient-dense meal that will delight your taste buds and satiate your hunger. Enjoy!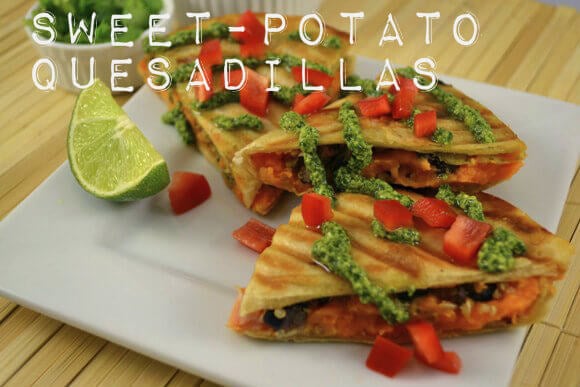 Note: I like to prepare the sweet potatoes, quinoa, and pesto the night before so that when I want to actually assemble and eat the quesadillas, most of the prep work has already been done.
Sweet-Potato Quesadillas
2 large sweet potatoes
1/2 cup dry quinoa
2 Tbsp. olive oil, plus more to coat your frying pan or panini press
1 cup diced yellow onion
2 cloves garlic, minced
2 tsp. spices of your choice, in any combination (e.g., 1/2 tsp. cumin, 1/2 tsp. chili powder, 1/2 tsp. paprika, 1/4 tsp. coriander, and 1/4 tsp. nutmeg)
1 15-oz. can black beans
1/4 cup finely chopped cilantro
1 tsp. salt, plus more to taste
Black pepper, to taste
1/2 fresh lime
1 pkg. small tortillas (mine were 7 1/2 inches across)
2 cups vegan pesto
1 red pepper, seeded and chopped
Preheat the oven to 400°F.
Pierce the potatoes several times with a fork, wrap each one in foil, and bake until soft, about 1 hour. Remove from the oven, unwrap, and let cool.
Cook the quinoa according to the package directions.
Once the potatoes are cool enough to handle, peel off the skins and chop into smallish chunks. Add to a food processor and blend until smooth, stopping to scrape the sides as many times as needed.
In a heavy-bottomed frying pan, heat the olive oil over medium heat, adding the onion and garlic once hot. Cook, stirring occasionally, until the onions are fragrant and tender, about 4 to 5 minutes. Stir in the spices and cook for 1 more minute.
Add the quinoa, black beans, cilantro, salt, and pepper and cook until the mixture is warmed through, about 2 minutes. Add a squeeze of lime juice.
Spread a couple of heaping spoonfuls of the sweet potato pureé onto one side of an open tortilla, then add a couple of spoonfuls of the quinoa mixture. Spread 1 tablespoonful of  pesto on the other side of the tortilla and fold in half.
Spray each side of the tortilla with olive oil and place in a panini press or in a frying pan over medium-high heat. Cook until the tortillas are golden brown and slightly crisp (if using a frying pan, flip the quesadillas and cook both sides).
If you are cooking all the quesadillas at once, transfer to a baking sheet lined with parchment paper and place in an oven preheated to 250°F. This will keep them warm until you've finished making all of them.
Garnish with more pesto and a sprinkling of chopped red pepper. Serve hot.
Make 8 to 10 quesadillas
Respond