Stuffed Acorn Squash for Your Holiday Feast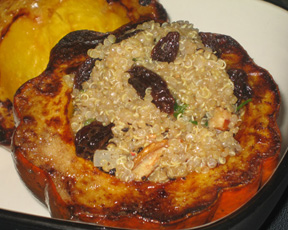 All the overachievers of the world are already preparing for their big Thanksgiving dinner—this one's for you guys. I, on the other hand, will probably not walk into a grocery store to start my shopping until the day before. Still unable to shake the procrastination bug.
Those of you who are already preparing and are in the mood for more than just a faux turkey for Thanksgiving—or worse, just a medley of side dishes—stuffed squash is a festive alternative.
The adorable little flower-shaped squash is baked until the flesh is bubbly, browned, and tender. The center is then loaded with a mixture of nuts, herbs, and the oh-so-healthy quinoa. If this filling seems a little too "crunchy" for you, try one of the many other unique holiday entrées in the guide to celebrating a vegetarian holiday.
Festive Acorn Squash
1-2 tsp. melted margarine
2 acorn squash, cut in half and seeds removed
1 cup quinoa, rinsed
2 cups vegetable broth
1/4 cup minced Vidalia onion
2 Tbsp. minced fresh parsley
1/4 cup toasted pecans
1/4 cup raisins
2 Tbsp. high-quality balsamic vinegar
4 Tbsp. extra-virgin olive oil
Salt and pepper, to taste
•Spread the margarine on the cut side of the squash. Place face down onto a baking sheet and bake at 400°F for 20 to 25 minutes, or until the flesh is soft.
•While the squash is baking, combine the quinoa and broth in a pot and bring to a boil over medium heat. Reduce the heat, cover, and simmer for 10 to 15 minutes, or until the liquid is absorbed. Remove from the heat.
•Toss the remaining ingredients into the quinoa. Season to taste.
•Gently spoon the quinoa mixture into the squash halves.
Makes 3 to 4 servings
Related Posts
Respond