St. Patty's Treat: Chocolate-Stout Cupcakes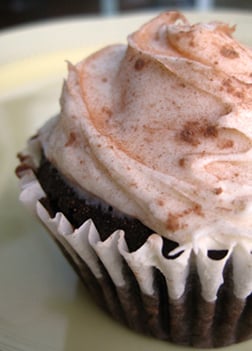 Chow.com recently posted a recipe for St. Patty's Day Chocolate Guinness Cupcakes, and immediately I knew that they needed to be veganized because it would allow me to indulge in both my love for dark beer and my love for baking.
The first step in veganizing the cupcakes is to replace the Guinness, which is not vegan-friendly, with another Irish stout or coffee. Next, replace the milk with soy milk and the eggs with Ener-G brand egg replacer. Finally, replace the sour cream with the vegan equivalent, or if you are like me and don't have any on hand, use Vegenaise. I swear this was good and led to super-moist cupcakes that even my brother, who seems to be deathly afraid of all things vegan, approved of.
To get a nice light dusting of cocoa powder, try placing a small amount on a spoon and then blowing it onto the cupcakes. Of course, you don't want to do this if you're baking something you're going to sell or, say, giving the cupcakes to a complete germaphobe, but it is a neat at-home trick.
Enjoy the cupcakes with a strong Irish coffee, and you'll have a buzz, not just from sugar, to last throughout the day.
Chocolate Stout Cupcakes
For the Cupcakes:
1 12-oz. bottle Irish stout beer (or 12 oz. coffee, if you prefer)
1/2 cup soy milk
1/2 cup vegetable oil
1 Tbsp. pure vanilla extract
Egg replacer equivalent to 3 eggs (try Ener-G brand)
3/4 cup vegan sour cream (try Tofutti brand)
3/4 cup unsweetened cocoa
2 cups sugar
2 1/2 cups all-purpose flour
1 1/2 tsp. baking soda
•Preheat the oven to 350°F. In a large bowl, combine the beer, soy milk, vegetable oil, and vanilla. Beat in the egg replacer and then mix in the vegan sour cream.
•In a large mixing bowl, whisk together the cocoa, sugar, flour, and baking soda. Gradually mix the dry ingredients into the wet beer mixture.
•Grease 24 muffin tins (or line with cupcake liners) and divide the batter among the muffin tins.
•Bake for 25 minutes, or until done.
•Cool completely before decorating.
For the Frosting:
1 8-oz. pkg. vegan cream cheese, softened
1/3 cup soy milk
1 lb. confectioners' sugar
•Beat the vegan cream cheese in a bowl until light and fluffy. Gradually beat in the soy milk, then slowly mix in the confectioners' sugar.
To Assemble:
Cocoa powder for dusting
•Top each cooled cupcake with a dollop of frosting, then sprinkle with a small dusting of cocoa powder.
Respond