Southwest Veggie Burger
A few weeks ago, I was approached by a company asking me to review its products. This happens often. I don't always say yes, because the product might be something that is super common or so obscure that no one would be able to find it. But this time, when Match premium meat alternatives contacted me, I was happy to say yes, because its products are billed as the more gourmet faux meats on the market (we'll see about that!) and because of the ability to order them online, making them available to everyone.
The company sent me a sampling of its beef, pork, and chicken alternatives. Each comes frozen—and in rather fancy packaging, I must say. The meat alternatives are sort of in slabs, which is great because you can shape them any way you like instead of being stuck with the usual strips, patties, or crumbles.
The first one I tried was the pork, and I have to admit that I wasn't blown away. It wasn't bad—and honestly I don't even remember what pork tastes like, so maybe it was a good match—but it just wasn't for me. Next I tried the chicken alternative and whipped up Italian breadcrumb-encrusted breasts. They were delicious. Match is soft when cold and then firms when heated, and the resulting texture was a little dense but very satisfying. I also tried the faux chicken coated with the blackened seasoning that I'm currently obsessed with and then pan fried, and it too was wonderful. The taste of the "chicken" was rich but not overly salted like other mock meats.
With the beef alternative sample Match sent me, I tried to ration it out, as if it were the last faux meat on Earth. I tried it as a taco filling, as a mini meatloaf, in a tiny portion of fajitas, and as the base for a Southwest burger (see recipe below). I couldn't get enough of it. Out of the three, it was my favorite—quite unexpectedly—because of the endless options for its use.
I would definitely say that Match lived up to the promise of being one of the premium meat alternatives because of the texture and versatility that is unique to its products. And the meats aren't pre-seasoned, so you really can customize and use them any which way you like! Check out the Match Web site for information on where to buy the products or to order online.
Those of you who read the blog often might already know my other requirement for reviewing a product here (hint, hint), but if you don't, check back tomorrow and you'll find out!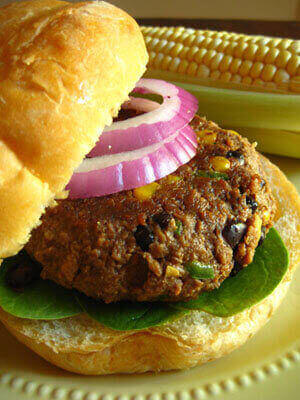 Southwest Veggie Burger
Recipe by Match
1 lb. Match faux ground beef
1/2 cup corn, chopped
1/2 cup black beans, chopped
1/4 cup green chilies, chopped
1 Tbsp. dried chives
1 tsp. cumin
1 tsp. chili powder
1/2 tsp. granulated garlic
1/2 tsp. onion powder
1/2 tsp. salt
1/2 tsp. pepper
1/8 tsp. cayenne pepper
•Mix all the ingredients together and form into patties.
•Grill or sauté on a nonstick prepared surface over medium-high heat for 3 to 4 minutes per side, or until heated through.
•Serve on a bun with your favorite Southwest condiments.
Makes 4 to 6 patties
Respond