Smashed Chickpea and Avocado Salad Sandwich
Written by
August 28, 2013
|
Whether you're looking for the perfect back-to-school recipe for the kiddies in your life or you're looking to spice up your own lunchtime routine, this chickpea and avocado salad sandwich is the answer. This simple recipe is inexpensive, easy to make, and packed with protein to keep you going through a long day.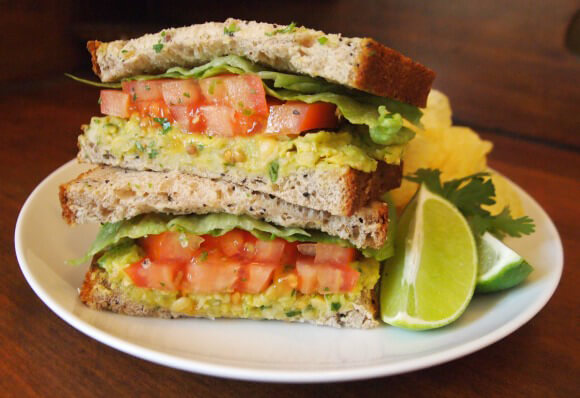 Smashed Chickpea and Avocado Salad Sandwich
Adapted from TwoPeasAndTheirPod.com
1 15-oz. can chickpeas, rinsed, drained, and skinned
1 large, ripe avocado
1/4 cup chopped fresh cilantro
2 Tbsp. chopped green onions
Juice of 1 lime
Salt and pepper, to taste
Bread of your choice
Sandwich toppings (we used lettuce and tomato)
In a medium bowl, smash the chickpeas and avocado together using a fork or large spoon.
Add in the cilantro, green onions, and lime juice and stir
Season with salt and pepper.
Spread onto bread and top with your favorite sandwich toppings.
Makes 3 to 4 servings
Wondering where vegans get their protein? Answer: this sandwich.
Related Posts
Respond
In This Section