Sinless Spring Rolls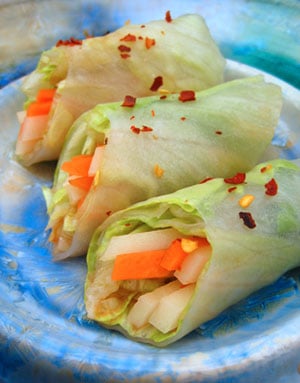 Steamed or raw spring rolls filled with only fresh veggies are one of the lightest, healthiest spring-time meals that you can eat. If you've only tried the deep-fried version that comes as an appetizer at your favorite Thai or Chinese restaurant, then keep an open mind when trying these for the first time.
The vegetable spring rolls below are based on a Filipino recipe and call for a lettuce leaf to be layered inside the spring roll as a second wrapper. They are then filled with veggies, such as carrots, bamboo shoots, and turnips, but you can throw in anything that can be eaten raw. For a flavor boost, add a small spoonful of your favorite sauce–spicy or sweet–to the pile of veggies before rolling the spring roll up.
Enjoy!
Vegetable Spring Rolls
12 6-inch-round rice wrappers
12 lettuce leaves
1 cup shredded cabbage
2 carrots, peeled and sliced
1/2 cup sliced bamboo shoots
1/2 cup sliced turnips
2 scallions, sliced
1/4 cup your favorite sauce (try a chili sauce)
Red pepper flakes (garnish)
• Immerse the rice wrappers, one at a time, in a bowl filled with cold water and let stand until soft. Spread a towel on a work surface and place each wrapper on the towel.
• To assemble the rolls, place one lettuce leaf on top of the wrapper and arrange a small amount of the remaining vegetables on each, about halfway between the edge nearest you and the center of the wrapper. Add a 1/2 teaspoon of your favorite sauce to each (try a spicy chili sauce or a sweet and sour sauce).
• Fold the edge nearest you over the vegetables, then fold in one side and roll up lengthwise into a tight roll. Repeat with the remaining wrappers. Garnish with red pepper flakes if desired and use the remaining sauce for dipping.
Makes 6 servings
Respond