Roasted Vegetable Pasta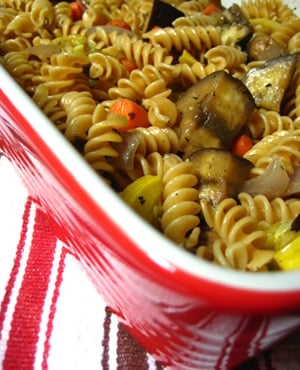 There's one aspect of marriage that can be quite frightening to many—in-laws. Part of the fear regarding new fam comes from being forced to eat whatever meals they prepare for you, while pretending to enjoy it. And when you're vegan or vegetarian, this can be an even scarier prospect.
Luckily for me, though, my new husband's family loves to whip up vegan meals for us when we stop by to visit, and they're always tasty. On a recent trip to visit my new sister-in-law, we were greeted with heaping plates of warm pasta with vegetables roasted in Italian seasonings, after our long seven-hour drive there.
Roasting vegetables in oil really helps retain their moisture and brings out more complex flavors, and the earthiness pairs well with whole wheat pasta. Of course, I had to recreate this dish at home after eating it with my in-laws, and here's the easy recipe for all of you. Enjoy!
Roasted Vegetable Pasta
1 medium eggplant, cut into bite-sized pieces
2 small squash, sliced and then quartered
1/2 red onion, sliced
8 button mushrooms, quartered
2 carrots, sliced
3 Tbsp. olive oil
1 tsp. dried oregano
1 tsp. dried basil
1 tsp. dried thyme
1/2 tsp. salt
1/2 tsp. pepper
14 oz. uncooked whole wheat rotini, or your favorite pasta
•Preheat the oven to 400°F.
•In a large mixing bowl, combine all the chopped vegetables, then add the olive oil and toss to coat. Add the herbs, salt, and pepper and toss again until well coated.
•Pour the vegetables into a casserole or baking dish, cover with foil, and cook in the preheated oven for 20 to 30 minutes, depending on the size of your vegetable pieces.
•Meanwhile, fill a large pot with water and bring to a boil over high heat. Add the pasta and cook according to the package directions. When done, drain and then place in a large mixing bowl.
•Add the cooked vegetables to the bowl and toss until well combined.
Makes 5 to 7 servings
Respond