Recipe Test: Potatoes 'au Gratin'
My coworker Debi recently asked me for a potatoes au gratin recipe after experiencing a strong craving for the traditionally cheesy casserole. I don't remember ever having a nonvegan version of the dish growing up, so in order to make her dreams—of finding a delicious dairy-free version—come true, I had to do a little research.
As with many vegan recipes that seek to replace cheese and cream, I found several different potatoes au gratin recipes coming from two different schools of thought—replace with soy cheese or replace with a nutritional yeast-based sauce. After a quick chat with Debi, I decided to try the nutritional yeast version, and she would try a soy cheese recipe. I think I made the wrong choice.
In my mind, I was choosing the more labor intensive and more delicious recipe, and I thought for sure that the results would please, but in the end I was a little disappointed. If you like recipes that are loaded with nutritional yeast, then this is for you. You will love it. But everyone else out there might want to go a little lighter on the nutritional yeast. I say start with one quarter of a cup, then add more to taste. I also thought that this recipe made too much sauce for me, but some people like that! If you want less creaminess, add one more sliced potato to the mix.
My next adventure with potatoes au gratin will be with a soy cheese-based sauce, and of course I'll give a full report.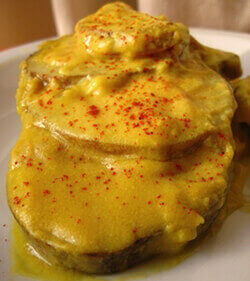 Potatoes 'au Gratin'
3 potatoes, sliced
1 onion, chopped
1 Tbsp. + 1/4 cup canola oil, divided
1 clove garlic, minced
1/2 cup vegan margarine
1/2 cup flour
3 1/2 cups boiling water
1 tsp. salt
2 Tbsp. soy sauce
1/4 tsp. turmeric
3/4 cup nutritional yeast
Paprika (optional)
•Preheat the oven to 350°F.
•Cook the potatoes in boiling water for 5 minutes. Drain and set aside.
•Over medium heat, sauté the onions in the 1 Tbsp. canola oil until translucent. Add the garlic and saute for 1 minute.
•Reduce the heat to low and add the margarine. Once melted, whisk in the flour. Increase the heat to medium and continue to whisk until the mixture is smooth and just beginning to bubble.
•Whisk in the boiling water, salt, soy sauce, and turmeric, mixing well. Cook until slightly thickened. Slowly add the 1/4 cup canola oil and the nutritional yeast, mixing until the yeast has dissolved and the mixture is well combined.
•Place a layer of the potatoes in a casserole dish and top with some of the "cheese" sauce. Repeat until all the ingredients are used.
•Bake, covered, for 10 minutes, then uncover and bake for 10 more minutes.
•Let stand for 10 to 15 minutes before serving so that the sauce can thicken slightly. Garnish with paprika, if desired, and served.
Respond