Raw Vegan Caesar Salad
The following article was written by Carissa Leventis-Cox of Mama in the Kitchen.
Caesar salad was one of my favorite salads when I was growing up, and I think this raw vegan version is definitely going to be one of my faves from now on! Raw tahini is the main ingredient in this dressing, and it is a wonderful source of calcium, iron, thiamine, riboflavin, niacin, folate, magnesium, phosphorus, zinc, copper, and manganese. Enjoy!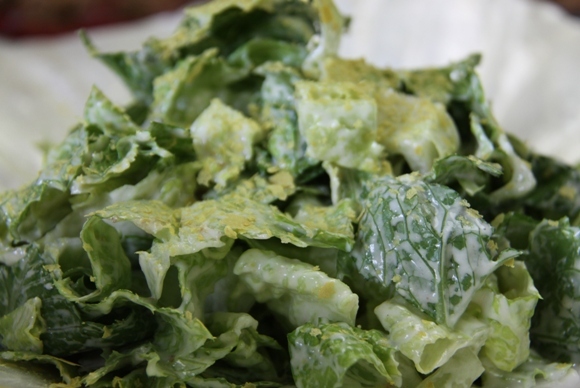 Raw Vegan Caesar Salad
Dressing:
1 1/2 tsp. sea salt
1 small clove garlic
1 date, pitted
Juice of 1 lemon
1 1/2 tsp. unpasteurized white miso
2 Tbsp. water (more or less, depending on preferred consistency)
1/3 cup extra virgin olive oil
1/3 cup raw tahini (sesame paste)
Salad:
3-4 heads of romaine lettuce, chopped
Nutritional yeast
Flaxseed crackers
Purée all dressing ingredients in a blender set on high speed.
Pour dressing over the chopped lettuce and mix well. 
Top with nutritional yeast for a vitamin B12 boost and toss in some flaxseed crackers as croutons!
Makes 6 servings
Respond