Raw Soft Bread Rolls
The following article was written by Carissa Leventis-Cox of Mama in the Kitchen, and she ain't cookin'!
I grew up eating a white-flour bread called "Pan de Sal." I remember how I began to love eating the rolls after watching a commercial in which a little boy salivated over a roll covered with margarine. Preferring fresh, made-from-scratch, whole foods, we don't eat any of these processed foods in my kitchen.
Although I have my own flour mill and bake our own breads, I prefer to offer my family foods that are even less processed and more nutritious. This raw bread is soft, fluffier than other raw breads, really nutritious, and easy to make!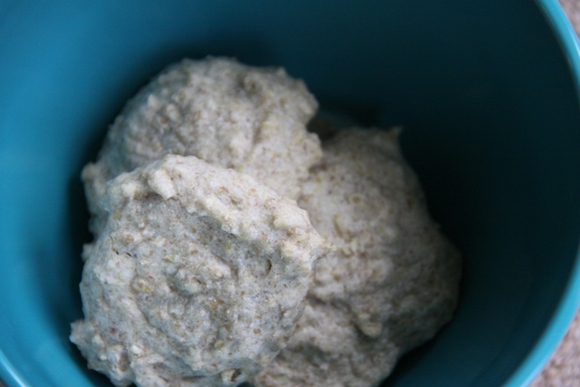 Raw Soft Bread Rolls
2–3 Tbsp. unpasteurized white miso
1/2 cup softened extra virgin coconut oil (put the bottle in warm water to liquify)
1/2 cup flax meal
2 cups sprouted soft wheat berries (soak the soft wheat berries overnight, drain and rinse the next day, and sprout if you wish or use as is)
Enough water to create a batter, about 1 cup or less (just enough so that the batter is sturdy enough to mold into individual loaves)
Process all the ingredients in a food processor until you reach the desired consistency.
Shape into individual loaves, place on dehydrator trays, and dehydrate at 105°F until dry (turning once and placing on mesh screens to quicken the process). Alternatively, dehydrate at 150°F for 2 hours, turn rolls over and place directly on mesh screens, then decrease the temperature to 105°F for another 8 hours or so until dry.
If you're not picky about hot temperatures, you could probably bake these in your oven too. 
Serve with raw salted "butter" (inspired by Ani Phyo's real butter) by mixing together 1 1/2 tsp. unpasteurized white miso, 1/4 cup softened coconut oil, and agave syrup or chopped-up dates. The mix of salt and sweet on the bread is delicious!
Respond