Raw Pesto Pasta
The following article was written by Carolyn Scott-Hamilton of HealthyVoyager.com.
Looking to get all the flavor and satisfaction from your favorite pasta but looking to cut out the calories and starch? Eat all the pasta you want with this raw zucchini pasta! It's easy, colorful, full of flavor, and, best of all, mega-healthy. Leave the guilt behind, and indulge in this yummalicious new way to make an Italian fave. Enjoy!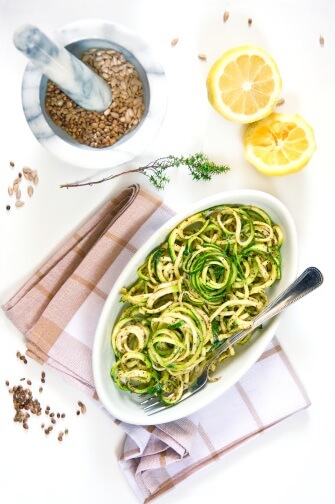 Pesto Raw-sta Primavera
2–3 medium zucchini
1/2 cup fresh basil
1/4 cup raw pine nuts
1/4 cup olive oil
2 cloves raw garlic
2 Tbsp. nutritional yeast or ground pumpkin seeds
Olives, sundried tomatoes, mushrooms, artichokes hearts, or colorful peppers (optional)
Slice the zucchini into fettuccine noodles with a vegetable peeler or mandolin. If you have a spiral vegetable cutter, it will make beautiful spaghetti noodles!
Scoop the zucchini pasta into bowls.
Make the pesto sauce by blending the basil, pine nuts, olive oil, garlic, and nutritional yeast or pumpkin seeds in a food processor until smooth.
Top the zucchini noodles with the pesto sauce.
Add optional vegetables of choice, if desired, for flavor, color, and texture.
Makes 2 to 4 servings
Respond