Raw Green Gazpacho
The following article was written by Carissa Leventis-Cox of Mama in the Kitchen, and she ain't cookin'!
I took my Raw Green Gazpacho to my son's school the other day, and the kids kept asking "What's that?!" I was trying to explain to a 4-year-old that, just like soap cleans something dirty, my green juice full of veggies cleans the inside of my body. She looked at me, wide-eyed with disbelief, and asked, "You clean your body with veggies???" Yes, I do!
While I had been participating in a 10-day cleanse, I began craving my thick and creamy Coconut Gazpacho full of umaminess—but decided I wanted something greener and less fattening. So I created this Raw Green Gazpacho that is perfect during a smoothie cleanse: full of green goodness, without stimulants, cleansing, and reminiscent of gazpacho flavors. Enjoy!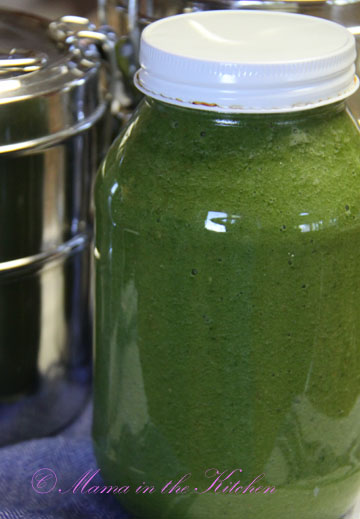 Raw Green Gazpacho
1 handful cilantro leaves
2 handfuls spinach leaves
2 cucumbers, peeled
2 stalks celery
2 big tomatoes
1/2 lemon, juiced
Sea salt, to taste (optional)
Purée all together in a high-speed blender.
Makes 1-2 servings.
Respond