Potato and Leek 'Risotto' With Mushrooms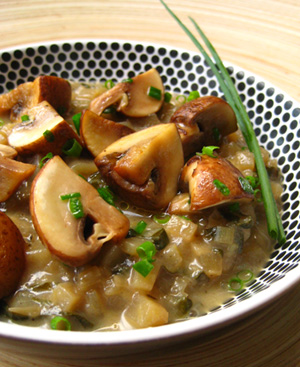 You may remember my raving a few months ago about a new cookbook titled Great Chefs Cook Vegan. Since receiving the book, I've been testing recipe after recipe and I've loved every one of them. My only complaint is that fancy food can be complicated!
To help give you a taste of the book, without making you break a sweat, I've slightly simplified one of my favorites and featured it here. It's the Potato and Leek "Risotto" With Mushrooms recipe, courtesy of Alex Stratta.
I know that when you look at the steps below, you might not believe this is the easier version, but trust me, it is! In Great Chefs Cook Vegan, Stratta's recipe goes into even greater detail and gives you the steps for making your own mushroom stock. He also opts for more expensive mushrooms, like chanterelle and porcini, while I stuck with portobello in order to keep costs down.
My easier, poor man's version below is almost as delicious as the original, but you can see for yourself! You can test the easier version (found here) and check out Great Chefs Cook Vegan to try the original.
Potato and Leek 'Risotto' With Mushrooms
For the 'Risotto':
1 lb. fresh leeks (white part only)
1/4 cup olive oil
3 sprigs fresh thyme
3 lbs. large russet potatoes
2 cups dry white wine
2 quarts mushroom stock
4 cups spinach leaves
Salt and pepper, to taste
•Thinly slice leeks crosswise into semicircles and rinse.
•Heat the olive oil in a large pot over low heat. Add the leeks and cook until translucent. Add the thyme, season lightly, and coat with additional oil. Cook for 8 to 10 minutes.
•Peel the potatoes and cut into 1/8-inch slices and then into an 1/8-inch dice.* Toss the potatoes with olive oil to coat thinly.
•Add the potatoes to the pot and coat well. Stir constantly for 3 minutes or so. Deglaze with the wine and reduce until dry, continuing to stir.
•Ladle enough simmering mushroom stock to just cover the potatoes. Continue to stir as the potatoes simmer and the stock is absorbed. Once the stock is absorbed, add more stock to cover and then continue to stir until the mixture reduces; repeat the process once more, or until the potatoes are tender.
•Julienne the spinach leaves and add to the "risotto" once the potatoes are cooked. Season with salt and pepper.
For the Mushroom Garnish:
2 Tbsp. olive oil
2 cups mushrooms (portobello, shiitake, or your favorite)
Salt and pepper, to taste
1 Tbsp. minced chives
•Place the oil in a sauté pan and heat over high heat, allowing to smoke lightly. Add the mushrooms and sauté briefly until tender. Season with salt, pepper, and chives.
•Plate the "risotto," top with the mushroom garnish, and serve.
Makes 8 servings
*Note: Do not place the potatoes in water—the starch needs to be retained to thicken the dish.
Respond