Martha Stewart Recipe: Vegetable-Barley Pot Pies
Martha Stewart's new cookbook, Meatless, features 200 of the very best vegetarian recipes. What's more, any recipes that aren't already vegan can be veganized with a few small changes.
The past few weeks, we've featured two other Meatless recipes: an avocado salad and a warming cannellini bean soup. But we've saved the best for last. Martha's Vegetable-Barley Pot Pies are deliciously flaky, thanks to her use of phyllo dough—and as she says, these pot pies are "just as satisfying as more traditional chicken versions."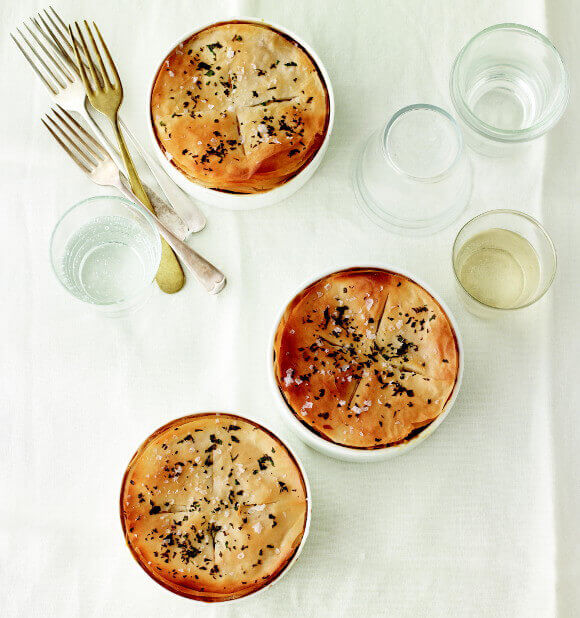 Vegetable-Barley Pot Pies
Adapted from Martha Stewart's cookbook Meatless
2 Tbsp. extra-virgin olive oil, plus more for brushing
1 onion, finely diced
2 carrots, thinly sliced
4 oz. shiitake mushrooms, stemmed and thinly sliced
1/4 cup dry white wine
1 1/2 cups cooked pearl barley
2 cups cooked white beans, drained and rinsed
2 Tbsp. all-purpose flour
4 cups vegetable stock, preferably homemade (Martha shows you how in the book)
2 Tbsp. chopped fresh flat-leaf parsley, plus more for garnish
6 sheets frozen phyllo dough, preferably whole wheat, thawed
Sea salt, for sprinkling
Heat the olive oil in a large skillet over medium heat. Sauté the onions, carrots, and mushrooms, stirring frequently, until tender, about 6 to 8 minutes. Add the wine and cook, stirring up any browned bits, until almost all the wine has evaporated.
Combine the barley and beans in a large pot. Whisk the flour into the stock and add to the pot. Bring to a boil and cook, stirring, until slightly thickened. Remove from the heat. Stir in the parsley and let cool slightly.
Preheat oven to 425°F. Using a 12-oz. ramekin as a guide, cut out 4 rounds from the phyllo dough and keep covered with a damp paper towel. Spoon the barley mixture into 4 ramekins. Brush each cut sheet with oil and place on top of the filled ramekins. Cut vents into the tops and sprinkle with sea salt and reserved parsley.
Transfer to a rimmed baking sheet and bake until the tops are golden and the filling is bubbling, about 30 minutes. Let cool slightly before serving.
Makes 4 servings
Respond