Kalamata-Red Pepper Tapenade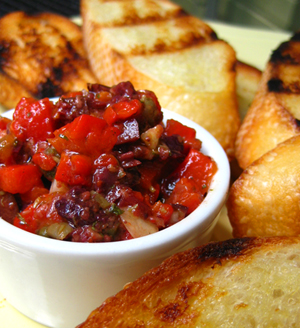 Tapenades are typically based around three main ingredients: olives, capers, and olive oil. You would think these ingredients would be the start of an Italian dish, right? Surprisingly, tapenades are actually of French origin.
Tapenade is a paste or chunky spread made by mixing or pounding the above ingredients. You can throw in additional herbs and spices, as well as additional veggies, if you like.
My tapenade recipe below is made by mixing in jarred roasted red peppers, which are soft and sort of sweet, with the traditional ingredients, plus herbs and lemon juice. The peppers add a little more variety to the flavors and help cut some of the saltiness. Don't get me wrong—I love salt, but 1/2 cup or more of olives can test even my love of sodium.
As you can see, I only pulsed the mixture until just combined, leaving it rather chunky. For a more traditional tapenade, blend until it becomes more of a paste. In my opinion, the only vehicle for the oily, salty spread is a toasted baguette or crostini. Nothing else will do.
Kalamata-Red Pepper Tapenade
1/2 cup kalamata olives, pitted and chopped
1/2 cup roasted red peppers, chopped
1 Tbsp. capers
2 cloves garlic, minced
1/2 lemon, juiced
1/4 tsp. dried thyme
1/2 tsp. dried parsley
2 Tbsp. olive oil
Pepper, to taste
•Combine all the ingredients, except the pepper, in a blender or food processor. Pulse until combined. Season with pepper and serve.
Related Posts
Respond