Jerk-Spiced Tofu Kebobs
The following article was written by PETA guest writer Chef Priyanka.
I've always loved Jamaican food, especially Jamaican jerk spice dishes. Unfortunately, they're traditionally prepared using chicken. This summer, I wanted to recreate that Jamaican jerk spice deliciousness using tofu. If you like spicy, sweet, and bold flavors, then you're going to love this recipe. The tofu comes out so moist and flavorful that meat-eaters and vegans alike will love it!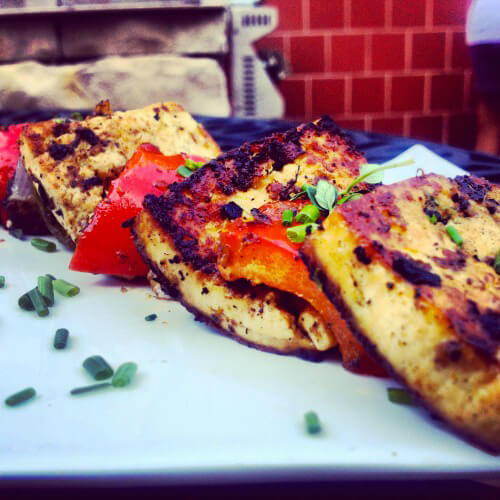 Jerk Spiced Tofu Kebobs
Adapted from ChefPriyanka.com
3–4 heaping Tbsp. Jamaican Jerk Spice (see recipe below)
6 cloves garlic, peeled)
1-in. piece fresh ginger
1 habanero pepper
2 heaping Tbsp. brown sugar (light brown or dark brown is fine)
Dash fresh nutmeg
1/2 cup extra-virgin olive oil
Juice of 1 lime
Dash low-sodium soy sauce
4–5 sprigs fresh thyme, stemmed
1 pkg. super-firm tofu, thoroughly drained and patted dry (until no moisture is released when pressed) and cut into 1-in. cubes
1 red pepper, chopped into 1-in. cubes
2 medium red onions, chopped into 1-in. cubes
1 bunch chives, chopped
1 bunch scallions, chopped
Place all the ingredients except the tofu, red pepper, onions, and scallions in a blender and blend until smooth. (The mixture should have the consistency of a thick liquid.)
Place the tofu, red pepper, and onions in a large foil tray. Pour in 1/2 of the marinade mixture, reserving the rest to use for basting and as a dipping sauce.
For best results, marinate the tofu and vegetables for 3 to 4 hours.
Spray a metal BBQ tray with cooking spray and place over a hot grill. Once hot, add the marinated tofu and vegetables. Close the lid and grill for about 5 minutes. Flip once, then grill for another 5 to 7 minutes, or until tender and slightly charred.
Place on a serving platter and sprinkle with the chives and scallions. Serve with the reserved jerk sauce.
Makes 4 to 5 servings
Jamaican Jerk Spice 
1 Tbsp. crushed chili powder
1 Tbsp. salt
1 tsp. granulated suga
1 tsp. fresh nutmeg
1 tsp. freshly ground black pepper
1 tsp. garlic powder
1 tsp. dried thyme
1 tsp. coriander powder
1/2 tsp. cinnamon
Combine all the ingredients together.
Makes approximately 2 ounces
Respond