Indulge in a Little Holiday 'Spirit'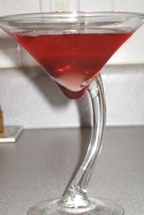 My friend Corey shared this story and recipe with me recently, and I've decided to print it here for you, because many of us, myself included, can relate. Enjoy!
The holidays bring sugar cookies, roasted Tofurky, Silk Nog, and relatives. This year, my place will be the epicenter for all holiday festivities. Both families are coming in—and staying with us for more than a week. Sometimes you need a little extra cheer to help them—and you—survive this oh-so-festive season.
My favorite way to add a little "cheer" is to serve them a gorgeous cranberry-ginger martini before dinner with a few very light appetizers. My father-in-law is a little shy of vegan food and sometimes needs coaxing. This cocktail helps ease him into the glorious dinner that will be prepared and ensures everyone finds some common ground: great meal, great cocktail, and enjoyable company.
Cranberry-Ginger Martini
This festive holiday drink is perfect to serve with hors d'oeuvres.
Ice
1 1/2 oz. vodka
2 oz. cranberry juice
1/2 oz. lime juice
Dash of powdered ginger
1/2 oz. tonic water
Cranberries for garnish
Candied ginger for garnish
Put the ice in a martini shaker. Add the vodka, cranberry juice, and lime juice. Shake.
Place the powdered ginger in a chilled martini glass.*
Add the vodka-cranberry mixture and top with the tonic.
Place 1 cranberry, some candied ginger, and another cranberry on a toothpick or cocktail skewer. Place in the martini glass.
Makes 1 serving
*Use a light hand when sprinkling the powdered ginger into the glass, or it will overpower the drink.
Respond