Grilled Eggplant Lasagne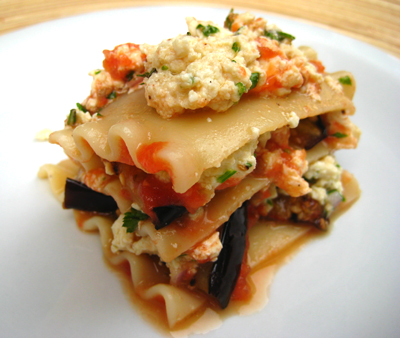 During the summer months, I feel the need to use my grill for just about every dish I make—even lasagne. I haven't yet found a way to put the pasta right onto the grill, but you can grill most of the other ingredients to make lasagne that has just a hint of smokiness.
I like keeping the veggies simple by sticking with only eggplant because the real star of my grilled lasagne is the tomato sauce. Grilling Roma tomatoes and adding just a touch of sugar when blending creates a rich sauce that is smoky and sweet at the same time.
This lasagne tends to fall apart after removing it from the casserole dish because there isn't a binder, but if you want gooey lasagne that stays together, try replacing the tofu ricotta with a melted soy cheese instead.
Grilled Eggplant Lasagne
For the Tofu Ricotta:
1 lb. firm tofu, drained
1 Tbsp. olive oil
1 Tbsp. lemon juice
2 tsp. basil
2 tsp. parsley
3/4 tsp. salt
1 clove garlic, minced
•Place the tofu in a large mixing bowl and mash until the entire block is in medium-sized chunks.
•Add the remaining ingredients and stir until just combined.
For the Sauce:
2 lbs. Roma tomatoes
2 Tbsp. olive oil
Salt and pepper, to taste
2 tsp. sugar
•Toss the whole tomatoes with olive oil and sprinkle with salt and pepper. Place on a heated grill for about 4 minutes, or until the skins begin to blacken.
•Remove from the heat and, when cool enough to the touch, peel off the skins and scoop the seeds and pulp out of the center.
•Add the tomatoes to a food processor and blend until smooth, adding sugar and additional salt and pepper to taste.
To Assemble:
9 lasagne noodles
2 medium eggplants
2 Tbsp. olive oil
Salt and pepper, to taste
•Preheat the oven to 350°F.
•Bring a large pot of water to a boil and cook the lasagne noodles according to the package directions. Drain and set aside.
•Cut the eggplants into 1/2-inch slices.
•Brush both sides of each slice liberally with olive oil, then sprinkle with salt and pepper.
•Cook the slices on a grill over high heat for 3 to 4 minutes on each side.
•In a casserole dish, layer about 1/2 cup of sauce, 3 noodles, 1/2 the eggplant slices, more sauce, and 1/2 cup of tofu ricotta. Repeat until all ingredients are layered.
•Bake for about 30 minutes.
Makes 10 servings
Related Posts
Respond