Google Recipe Makes Cooking Easy
The following article was written by Keegan Baur.
I'm going to let you in on a little secret: I have absolutely no idea how to cook. There, I said it. Growing up, I never took any home economics classes or spent much time in the kitchen with my mom as she whipped up our family dinners. For a long time, the act of cooking just didn't interest me, which I now truly regret. I've recently purchased a few cookbooks, but finding a suitable recipe can sometimes be tricky. I don't want one that is too difficult or time-consuming, and it also can't call for tons of ingredients that aren't already in my cupboard. Enter the solution to my problem: Google Recipe.
This handy-dandy new search tool from Google allows you to customize each search and find exactly the recipe that you need. And it's really easy to use! First, type your text into the regular Google search box. After your initial results have loaded, click "Recipes" on the left-hand side of the page. Next, you can further refine your search by selecting your preferred cooking time, calorie count, and ingredients (those that you want in the recipe and those that youdon't). For example, I can type in "vegan pasta" and then specify that I would like the dish to include tofu and take less than 30 minutes to make. My results include recipes for vegan macaroni and cheese, vegan pesto pasta, and easy vegan spaghetti. How convenient is that?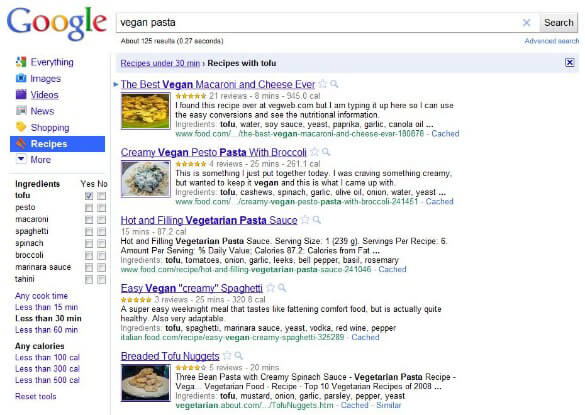 Google Recipe can be especially useful not only to vegans but also to individuals who have allergies, are on diets, or who (like me) are just plain lost in the kitchen. I am most definitely going to play around with this new feature and add it to my growing arsenal of cooking tools. How might Google Recipe be helpful to you, and which recipes do you plan to search for?
Respond