Garlic-Parsley Mashed Potatoes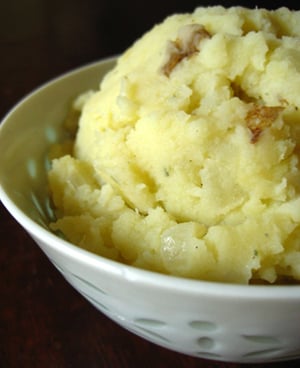 Mashed potatoes are one of life's ultimate comfort foods. It's not one that many people turn to in late June, but last night even the heat couldn't keep me from listening to a craving for my second favorite spud.
I must warn: If you thought my preference for well-done food from a grill was scandalous, maybe you should stop reading now because you'll certainly think the amount of margarine that goes into this recipe is downright wicked. Yes, Paula Deen would be proud.
If you're trying to avoid the whole "sinfully good" potatoes thing because of health or weight reasons, then just reduce the amount of margarine and increase the soy milk a bit. They'll still be delicious. Enjoy!
Garlic-Parsley Mashed Potatoes
3 lbs. baking potatoes
1 1/2 sticks (3/4 cup) soy margarine
1/2 onion, diced
5 cloves garlic, minced
1/4 cup soy milk
1/2 Tbsp. salt
2 Tbsp. fresh parsley, chopped
Pepper, to taste
Wash and dice the potatoes. You may leave the skins on or remove them. Place the potatoes in a large pot, cover with water, and bring to a boil over high heat. Cook for about 20 minutes, or until tender. Remove from the heat and drain the water.
In a sauté pan, melt the margarine over medium-low heat, then add the onion and garlic and sauté until translucent.
In a large bowl, add the cooked potatoes, margarine mixture, and soy milk, then mash until slightly creamy. Add the salt, parsley, and pepper.
Makes 6 servings
Respond