Focaccia Fiasco
Written by
September 7, 2007
|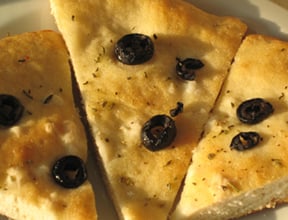 I will go ahead and admit that this attempt at focaccia turned out to be kind of a disaster. I don't think it's a bad recipe—I just think I'm a little impatient. OK, I can be very impatient.
Focaccia needs to be thick and spongy, almost doughy, so you have to allow it time to rise properly. The end result can ideally stand on its own, with no need for an olive oil dipping sauce—which I love to need—because the flavor is so rich. What I was left with—after only an hour in the kitchen—more closely resembled, let's say, cardboard. It looked OK but was dense and flavorless.
Next time I try this recipe—and there will be a next time, because I refuse to give up—I will ignore the timer and allow the dough the time it needs to rise. I learned this as rule number one working in a bakery in Athens, Georgia, so I should have known better. But as I said, I'm just a little impatient.
Rosemary-Black Olive Focaccia
1 tsp. sugar
1 (1/4-oz.) pkg. active dry yeast
1/3 cup warm water (110°F)
1 tsp. salt
2 cups all-purpose flour
2 Tbsp. olive oil
2 Tbsp. rosemary
2 Tbsp. sliced black olives
Sea salt and cracked pepper, to taste
In a small bowl, dissolve the sugar and yeast in the warm water. Let stand until creamy, about 10 minutes.
In a large bowl, combine the yeast mixture with salt and flour, stirring well to combine. Stir in additional water, 1 tablespoon at a time, until all the flour is absorbed, forming a dough. Turn out onto a lightly floured surface and knead for about 1 minute.
Lightly oil a large bowl. Place the dough in the bowl and coat with some of the oil. Cover with a damp cloth and let rise in a warm place until doubled in volume, about 30 minutes.
Preheat the oven to 475°F.
Deflate the dough. Turn out onto a lightly floured surface and knead briefly. Pat or roll into a sheet and place on a lightly greased baking sheet. Brush with oil and sprinkle with the rosemary, black olives, salt, and pepper.
Bake for 10 to 20 minutes, depending on desired crispness. For a moist, fluffy focaccia, bake for about 10 minutes. For a crispier focaccia, bake for about 20 minutes.
Makes 6 servings
Related Posts
Respond
In This Section