My First Love, the Taco
Written by
September 6, 2007
|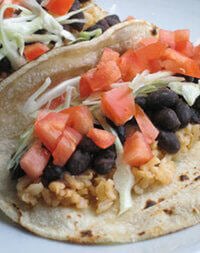 My first love—food love, that is—was the taco. I'm talking about your standard hard shell, filling, lettuce, and salsa—nothing fancy. It's the first food I remember discovering on my own and realizing that I loved without any influence from my family. You can call it my "taco rebel phase."
Memories of my first love came rushing back when my friend Corey passed along this recipe for Take-and-Go Tacos. They are much healthier than the tacos I knew as a child, but that's why they are perfect for back-to-school lunches.
All the ingredients can be prepared ahead of time, and then in the morning, you simply reheat the ingredients that need reheating, pack, and go. Perfect for a busy family—or any child in his or her own taco rebel phase.
Take-and-Go Tacos
1/2 cup brown rice
3/4 cup water
1/4 cup salsa
1/2 cup black beans or veggie burger crumbles
Corn or flour tortillas
Diced tomato (optional)
Shredded vegan cheese (optional)
Shredded lettuce (optional)
In a saucepan over medium heat, combine the rice, water, and salsa. Bring to a boil. Reduce the heat and simmer for 40 to 50 minutes, or until the rice is cooked.
Heat the beans or veggie burger crumbles and stir into the rice. Place in a thermos while hot.
Wrap the tortillas in plastic wrap. Pack in a lunch box with the thermos and preferred taco toppings.
Makes 2 servings
Related Posts
Respond
In This Section