A Farewell-to-Summer BBQ
Written by
September 17, 2007
|
To mourn the end of summer, my friend Corey and I decided to have one last barbecue for the year. It was really just an excuse to play Will Smith's "Summertime."
It was necessary to have our party at Corey's house, because I'm pretty sure it would have been a bad idea to hold the party on my fire escape—the only outdoor space I'm allotted at my tiny apartment. We clung to the hope that we'd have at least one last day of heat for our bash, but instead we got chilly air and leaves in various shades of autumn.
The theme to the farewell feast was food that is super easy to make but tastes like it took hours to prepare. I picked up some vegan Boca burgers and marinated them in Stubb's Mopping Sauce Bar-B-Q Baste for 30 minutes. We cooked the burgers and thick onion slices directly on the grill, along with sliced mushrooms stuffed into foil packets. To give the burgers an extra-smoky taste, we toasted the buns right on the grill.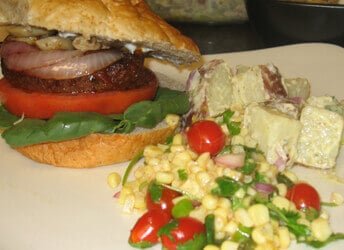 Two of the many side items were Jalapeño-Corn Salad and Red Potato Salad. Both stuck with our "fast summer feast loaded with flavor" theme. The corn salad has a little kick, and if you're a fan of the heat—as I am—add another jalapeño or keep the seeds in.
Our barbecue was a hit—not quite as exciting as Will's, but still fun—and the perfect way to say goodbye to "summer, summer, summertime."
Jalapeño-Corn Salad
1 Tbsp. extra virgin olive oil
4 ears sweet corn, kernels cut off
1-2 jalapeños, seeded and diced
2 tsp. white vinegar
4 tsp. fresh lime juice
Cayenne pepper and salt, to taste
1 scallion, thinly sliced
2 Tbsp. chopped cilantro
1 cup cherry tomatoes, cut in half
Heat the olive oil in a large skillet and sauté the corn and jalapeños over medium heat for 7 to 8 minutes, or until the corn is tender. Remove from the heat.
Place in a large bowl and add the vinegar, lime juice, cayenne, and salt. Toss to coat. Let cool.
Add the remaining ingredients and serve.
Makes 5 to 6 servings
Red Potato Salad
2 1/4 lbs. red potatoes
1/2 cup olive oil
2 Tbsp. Dijon mustard
2 Tbsp. white wine vinegar
2 Tbsp. vegan mayonnaise
1 tsp. garlic powder
Salt and pepper, to taste
1/2 cup chopped red pepper
1/2 cup chopped celery
1/3 cup chopped red onion
Scrub and quarter the potatoes. Cook in salted water until just tender. Drain and rinse with cold water.
Whisk together the olive oil, mustard, vinegar, vegan mayonnaise, garlic powder, salt, and pepper.
In a large bowl, gently fold the chopped vegetables into the potatoes. Add the dressing, tossing to coat. Season to taste.
Makes 6 servings
Respond
In This Section