Creamy Baked Artichoke Dip
The following article was written by Keegan Baur.
Holiday parties are just around the corner, and we're all gearing up to prepare—and eat—the delicious food that comes with them. In preparation, I've been looking for an artichoke dip recipe that doesn't contain vegan mayonnaise. I finally found an interesting one in the cookbook Eat, Drink, & Be Vegan by Dreena Burton.
However, much to my dismay, the recipe was chock-full of one of my least favorite ingredients: olives. (I wouldn't touch an olive with a 10-foot pole, even if you dared me.) So I changed the recipe and made it my own, keeping potatoes as the base. I'm 100 percent satisfied with the results. Thanks to tasty vegan recipes like this one, we'll all have reason to be merry this season!
This recipe was adapted from Eat, Drink & Be Vegan.
Creamy Baked Artichoke Dip
Approx. 6 in. French bread
1/4 cup raw cashews, optional
1/2 cup cooked red or Yukon gold potatoes, packed
2 Tbsp. freshly squeezed lemon juice
1 Tbsp. apple cider vinegar
2 cloves garlic, minced
1 tsp. plus 1-2 pinches sea salt
2 Tbsp. nutritional yeast
2-3 pinches freshly ground black pepper
1 cup nondairy milk (soy milk is best for creaminess)
3 1/2 Tbsp. olive oil
3 Tbsp. fresh, flat-leaf parsley
1 14-oz can artichoke hearts, drained, rinsed, and lightly squeezed
1/4 cup fresh basil leaves, packed
4-5 oz. frozen spinach, thawed and drained
Vegan Parmesan cheese topping, optional
Preheat the oven to 375ºF.
Add the French bread to the food processor in small, broken pieces and pulse until you have large crumbs. Set aside.
Place the cashews in a food processor and blend until finely ground. Scrape down the sides of the processor bowl and add the potatoes, lemon juice, vinegar, and garlic, 1 teaspoonful of the salt, the nutritional yeast, and the pepper. Pulse a few times. Add 1/4 cup nondairy milk and purée until smooth. Add the remaining milk, 3 tablespoonfuls of the oil, and the parsley. Purée until very smooth and well combined, scraping down the sides of the bowl when necessary.
Add the artichoke, basil, and spinach and pulse lightly to incorporate the ingredients while retaining a slightly chunky consistency.
Pour into a medium-size baking dish. (A 24- to 32-ounce dish works well.)
Add 1/2 tablespoonful of oil and 1 to 2 pinches of salt to the bowl of breadcrumbs. Mix well and sprinkle evenly over the dip. Top with vegan cheese.
Bake, uncovered, for 25 to 30 minutes.
Remove and let cool for about 5 minutes before serving.
Makes 5 to 6 servings (However, I advise making a double batch because this goes quickly!)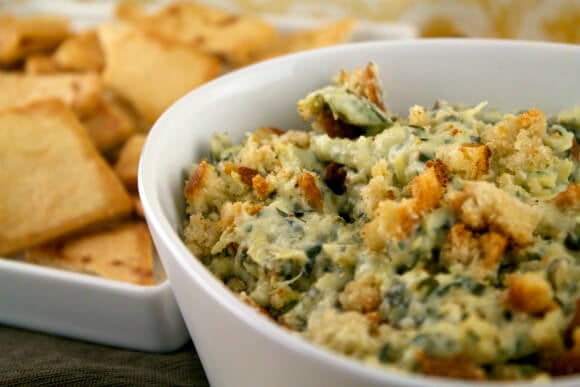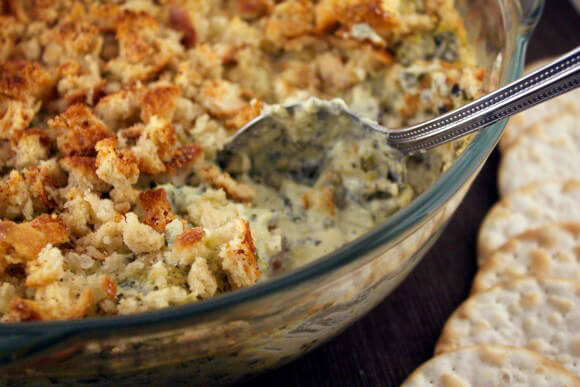 Even Kobe wants in on this dip!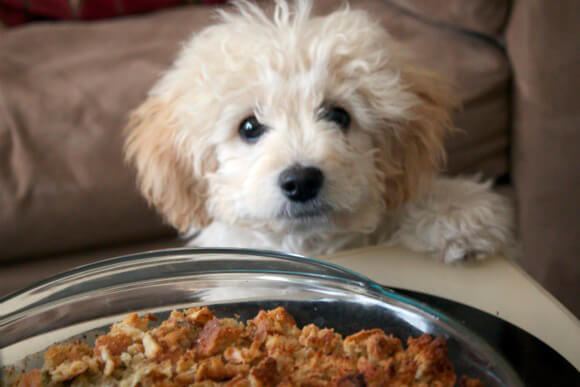 Respond