Creamiest Tomato Soup With Cashews
The following is a guest article written by Alix Radford, of CuteandDelicious.com.
When the weather gets cold, I love a rich, creamy bowl of soup. Who doesn't? It's the best. My favorite is tomato soup, but I have to admit, I'm a little picky about it. I like my tomato soup thick and creamy. It shouldn't have chunks, and it shouldn't be brothy.
I finally decided to try and make my own tomato soup; it seemed only logical. I was blown away by not only how easy it was to make but how amazingly flavorful it was. Since it is nearly as easy as heating up a can of soup and about 10,000 times better, I don't think I'll ever go back to eating pre-made soup again.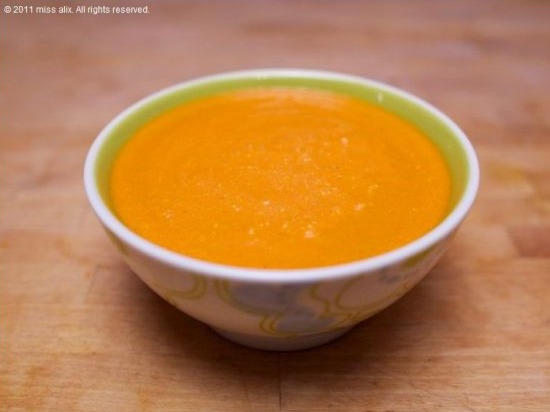 The key to making it so rich and creamy was cashews. I considered using some sort of soy creamer but knew it wouldn't give it the right density or the subtle nuttiness.
I most definitely had seconds (and thirds). It was hearty enough to eat on its own, but since I ate it a few nights in a row, we also had some kale and roasted butternut squash to go along with it.
Creamy Tomato Soup
1/2 cup cashews
1/2 cup vegetable broth
2 Tbsp. Earth Balance
1 small onion, chopped
2–4 cloves garlic, minced
1 28-oz. can whole peeled tomatoes
1/3 cup nutritional yeast
Salt and pepper, to taste
In a food processor, blend together your cashews and vegetable broth until smooth. Pour into a separate container and set aside.
In a medium sauce pan, over medium heat, melt the Earth Balance. Add the onions and sauté for about 2 to 3 minutes. As they begin to become fragrant, add in the garlic and sauté until your onions are soft and translucent, stirring so as not to burn. Add in your tomatoes, including any liquid in the can. Reduce the heat and simmer for 10 minutes.
Remove from the heat and let cool for a few minutes before pouring into your food processor. Blend until combined and not chunky. Add in the nutritional yeast and pulse to combine. Add in the cashew mixture and blend until very smooth. Season with salt and pepper to your liking and pulse a few times.
It will be fairly thick, so if you like a less robust soup, add more vegetable broth.
Respond