Are Cooking Games Vegan?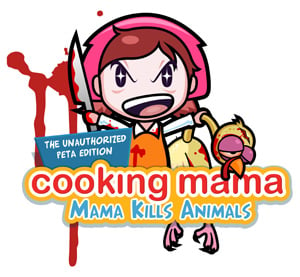 Here's an interesting question to consider: Are cooking games vegan? If you're cooking cartoon flesh on a computer screen or television, are you somehow really harming animals?
Well, technically all virtual meal preparation of animated ingredients is vegan, but I know some people can't help feeling it's at least a little icky.
But try and put those feelings aside for a few minutes and play our new cooking game! Our game is a parody of the popular video game series Cooking Mama, and I'll admit that it is bloody and gross at first, but only to make the point that cooking animals, even those who are animated, is rather gross.
We're also using it to highlight the serious lack of vegetarian cooking games out there, and we're even encouraging people to write to the Cooking Mama creator, Majesco, to ask the company to make an all-vegetarian-recipe game.
You can check out the game here.
I know this isn't the type of thing I normally write about, but I did work on this project, and it is technically food related. I'm also very proud of it.
Enjoy!
Respond