'Cocktail' Muffins
Written by
October 15, 2007
|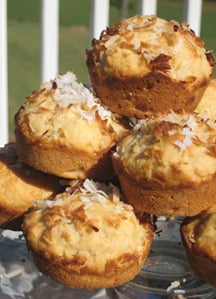 Anytime I taste a tropical flavor, I think of my elementary school years, when I would sing along to the Cocktail soundtrack on my Walkman. If I taste macadamia nuts, I think of the film's setting in the Caribbean. If I taste coconut, I think of "Kokomo" by the Beach Boys, one of my favorite songs from the film. The connections are unstoppable—and possibly made worse by the fact that I still own, and listen to, the soundtrack.
With the days getting cooler, I decided this would be the perfect time to bust out Tropical Banana Muffins, a.k.a. "Cocktail" Muffins, to bring me back to a beachy setting. Nothing warms up the house more then the smell of fresh baked goods, right out of the oven. Especially when they have a tropical twist: coconut, macadamia, and banana.
Try mixing in all the coconut for more texture, or top the muffins with 1/4 cup of the coconut. Both versions are delicious.
Tropical Banana Muffins
1 1/2 cups all-purpose flour
1 tsp. baking powder
1/4 tsp. salt
1/2 cup margarine, at room temperature
3/4 cup sugar
3 very ripe bananas, mashed
1 tsp. vanilla
Egg replacer equivalent to 1 egg
1 cup coconut
1/4 cup chopped macadamia nuts
Preheat the oven to 375°F. Lightly grease a muffin pan or line with paper liners.
Sift together the flour, baking powder, and salt.
In a separate bowl, cream the margarine with the sugar until fluffy. Mix in the bananas, vanilla, egg replacer, 3/4 cup of the coconut, and the macadamia nuts.
Add the flour mixture in batches and stir until just moistened. Be careful not to overmix.
Measure evenly into each cup and sprinkle the remaining coconut on top. Bake for 25 minutes, or until golden.
Makes 1 dozen
Respond
In This Section