Classic Potato Pancakes (Latkes)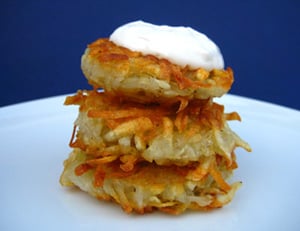 There are a multitude of recipes you can make for a vegan Hanukkah, but for some reason, I always come back to latkes. Last year, I featured Sweet Potato Latkes, which are laced with brown sugar, cloves, and cinnamon. But this year, I'm going with a classic—potato and onion.
If you're rounding up recipes for your holiday meals, then I definitely recommend trying these crispy, crunchy latkes with a dollop of soy sour cream.
Classic Potato Pancakes
3 lbs. baking potatoes, peeled
1 yellow onion, finely chopped
Egg Replacer equivalent of 2 eggs (such as Ener-G Egg Replacer)
1 tsp. salt
1/4 tsp. pepper
4 Tbsp. unbleached flour
Oil for frying
Grate the potatoes and squeeze out the moisture. In a large mixing bowl, combine the potatoes with all the remaining ingredients, except the oil.
Heat 1/4 cup oil in a large skillet. Place 3 Tbsp. of the mixture into the skillet for each latke. Use a spatula to flatten the mixture to form the latke. Fry over medium heat about 4 minutes per side, or until golden brown. Drain on paper towels and serve hot with apple sauce or soy sour cream.
Makes 6 to 8 servings
Respond