Christmas Cookies Are Here!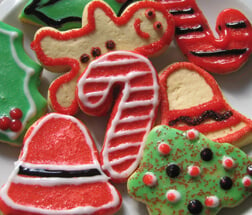 By playing it cool over the last couple of weeks, I've been able to hide my obsession with all things Christmas. Christmas music? Love it. Christmas tree? Already decorated. Singing Rudolph doll with a light-up nose? Already in my living room.
Like many adults, the holiday items I love most are those I remember from my childhood, especially the songs and desserts. So, to kick off my holiday baking this year, I blasted the Chipmunks' Christmas song and got out the cookie cutters to make classic sugar cookies.
Of course, I loved making Christmas sugar cookies as a child—it's a canvas you can then eat—but I still love making them as an adult, too, because they're nostalgic and easy. Decorating can be made practically stress-free by buying icing, gels, sprinkles, and candies from your local grocery store instead of trying to make them on your own.
With these reliable recipes that I found for perfect sugar cookies and icing as your base, and with your store-bought decorations, you'll have time just to have fun decorating cookies, not worrying about how they'll taste.
Sugar Cookies and Icing
For the Cookies:
1 cup margarine
1 cup sugar
Egg replacer equivalent to 2 eggs (try Ener-G brand)
1 tsp. vanilla extract
3 3/4 cups flour
2 tsp. baking powder
1/4 cup tofu cream cheese
In a large bowl, cream together the margarine and sugar. Stir in the egg replacer and vanilla. Gradually add the flour, baking powder, and tofu cream cheese.
Form the dough into a long loaf and wrap in cellophane. Refrigerate for 2 to 3 hours.
Preheat the oven to 350°F. Grease a cookie sheet or cover with nonstick foil.
On a lightly floured surface, roll out the dough to 1/4-inch thickness. Cut into desired shapes with cookie cutters and place about 1 inch apart on the prepared cookie sheet.
Bake for 12 to 14 minutes, until the bottoms and edges just start to get light brown. Remove from the baking sheet and cool on wire racks.
Makes 36 cookies
For the Icing:
2 cups confectioners' sugar
7 tsp. soy milk
4 tsp. light corn syrup
1/2 tsp. almond extract
Assorted food coloring
In a medium bowl, stir together the confectioners' sugar and soy milk until smooth. Beat in the corn syrup and almond extract until the icing is smooth and glossy. If the icing is too thick, add more corn syrup.
Add the food coloring to desired intensity. Dip the cookies in the icing and allow to dry overnight.
Makes enough to coat 24 cookies
Want to get more delicious recipes like these as well as ideas on ways you can help animals, improve your health, and protect the environment in the new year? Text 2016 to 73822 (U.S.) or 99099 (Canada), and we will provide you with the inspiration you need to make 2016 #TheYearOfVegan!
Message & Data Rates May Apply. Text STOP to end or HELP for info. Full Terms: http://peta.vg/txt
Respond