Celebrate Cinco With a Margarita!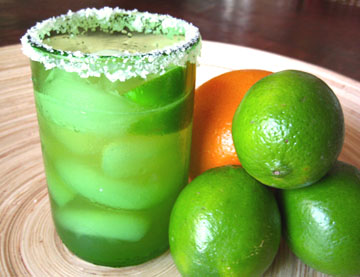 Cinco de Mayo is just days away, which means it's time to start planning my menu and testing recipes for a little fiesta. To me, this holiday is meant to be enjoyed on a patio with cocktail in hand. That cocktail has to be a margarita.
I don't mean the neon green, super sweet, overly blended slushy mess. I'm talking about the real deal—no mix, and made from high-quality fresh ingredients. These really are the only requirements. There are a ton of recipes for the "perfect" margarita, all with different ratios of the key ingredients—tequila, orange liqueur, and lime. Some people like a more tart drink and prefer more lime, others like extra orange liqueur, some must have salt on the rim, and others are horrified at the thought of letting salt anywhere near their glass. The point is that there's no right or wrong way to make it as long as you include the basics, so play with the ratios until you find the margarita you like.
My recipe is for a strong and tart beverage, with just a hint of sweetness. You definitely won't be drinking these by the pitcher—or if you do, you won't remember it.
Happy Cinco!
Margarita
1 1/2 oz. tequila
1 oz. fresh lime juice
1/2 oz. orange liqueur (try Cointreau or Triple Sec)
1/2 tsp. simple syrup
Ice
1 lime wedge
Kosher salt
Combine the tequila, lime juice, orange liqueur, simple syrup, and ice in a cocktail shaker and shake well for about 15 seconds.
Salt the margarita glass by rubbing the lime wedge around the rim and then dipping the glass into kosher salt on a plate.
Fill the glass with ice and strain the margarita into the glass. Garnish with the lime wedge.
Makes 1 drink
Respond