Calling All Fal-Pals: Jimmy Fallon-Style Vegan Ice Cream!
The following article was written by guest writer Sean Collander.
Vanilla bean ice cream with chocolate-covered potato chip clusters topped with a salty caramel swirl: If that doesn't make your mouth water, you should check your pulse because there's a good chance that you're a zombie.
I have been craving a taste of Ben & Jerry's "Late Night Snack" ice cream ever since it was announced this past spring on TV's Late Night With Jimmy Fallon. But since I don't consume dairy products, I decided to create a vegan version.
What follows is a relatively easy, two-part recipe for what I call (drum-roll, please) …
Midnight Madness (of Deliciousness, That Is)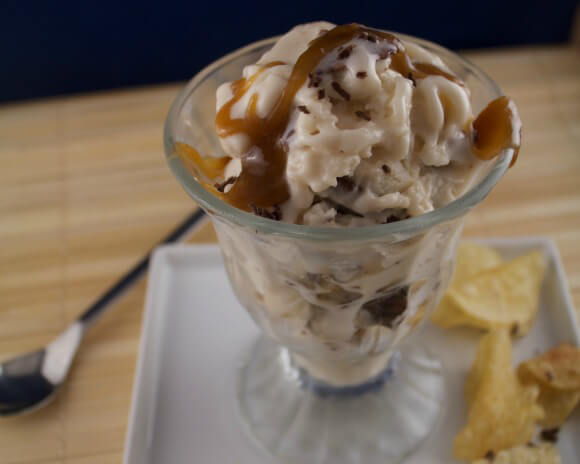 We start by making the caramel sauce*.
Caramel Sauce:
1 Tbsp. cornstarch or arrowroot powder
1/2 cup nondairy milk
1/2 cup vegetable shortening
1 cup sugar
2 Tbsp. maple syrup
1 tsp. ginger powder
Dash cinnamon
2 Tbsp. lemon juice
Pinch salt (optional)
1 tsp. molasses (optional)
In a saucepan, dissolve the cornstarch or arrowroot in the nondairy milk.
Add the rest of the ingredients to the pan. Bring the mixture to a boil, stirring constantly. When the bubbling becomes intense, reduce the heat to medium and continue stirring until the mixture thickens a bit, approximately 3 minutes.
Transfer the mixture to a food processor and whip for 3 minutes to add a bit of air and "fluff" to the caramel. (If you don't have a food processor, don't fret. The caramel will still turn out great; this step just adds a bit of volume.)
Return to the saucepan and reheat for about 2 more minutes, then remove from heat.
Pour the sauce into a bowl and chill in the fridge for at least an hour.
*You will have extra caramel sauce. To find different uses for it, check out the original recipe.
Now that the hard part is out of the way, let's move on to the fun, messy part!
Ice cream:
1/2 cup vegan chocolate chips (I used SunSpire Organic Fair Trade brand)
3/4–1 cup potato chips
Your favorite vegan vanilla ice cream (I like So Delicious Organic Creamy Vanilla)
1 sheet wax or parchment paper
Melt the chocolate by microwaving it for 1 minute at half-power, then stir it with a spoon.
Lightly coat the potato chips by dipping them into the melted chocolate, one at a time, and place on the wax or parchment paper.
When all the chips are coated, place them in the freezer for 10 minutes to allow the chocolate to harden.
When you are ready to eat, sprinkle the chips on top of your bowl of ice cream and mix them in, crushing them as you go. I generally use 10 to 14 chips per bowl, but you can use as many or as few as you want.
After the chips are mixed in, top with the caramel sauce and enjoy—perhaps while watching Late Night With Jimmy Fallon!
I'm pretty excited about this recipe. It's fairly easy to make, and it tastes crazy-good. Now, I challenge you to go out and veganize your favorite dessert named after a late-night comedian. Just don't forget to come back here and share it so that I can enjoy it too!
Related Posts
Respond
In This Section