Brussels Sprout Salad With Toasted Hazelnuts
Written by
March 22, 2011
|
I've been trying to incorporate more green foods into my diet lately, and I've fallen in love with Brussels sprouts. It was fate that brought us together when I found a whole stalk of them at my local farmer's market and decided to give them a try.
Let's be honest: These little guys have a pretty unfair reputation. They take center stage in just about every movie featuring a kid who refuses to eat a meal. I think this is why I put off trying them for so long, but I'm glad I finally did.
You can sauté them or roast them in the oven, but one of my favorite ways is to eat them raw. I adapted this recipe from 101 Cookbooks, and I'm hoping you'll give it a try.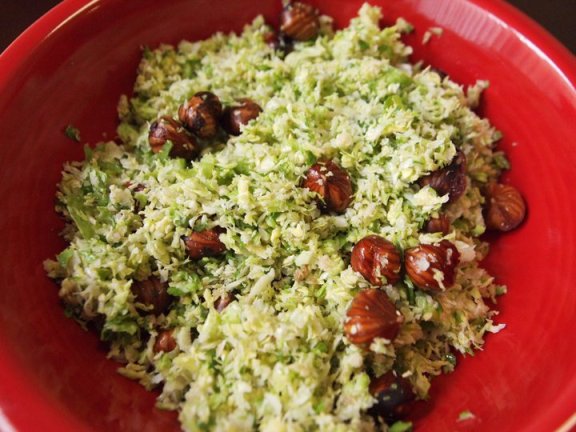 Brussels Sprout Salad
1 1/2 lbs. fresh Brussels sprouts
3 Tbsp. extra-virgin olive oil
2–3 Tbsp. fresh lemon juice
1 tsp. fresh thyme leaves
1/3 cup minced fresh chives
2–3 big pinches salt
1 1/3 cups toasted crushed hazelnuts
2 oz. vegan Parmesan cheese
Thinly shred the Brussels sprouts with a mandoline, a knife, or a grater.
Five minutes before serving, place the shredded sprouts in a large mixing bowl and toss with the olive oil, lemon juice, thyme, chives, salt, and hazelnuts.
Add the vegan cheese and toss once or twice to distribute evenly throughout the salad.
Makes 4 to 6 servings
Related Posts
Respond
In This Section