Brownie a la Mode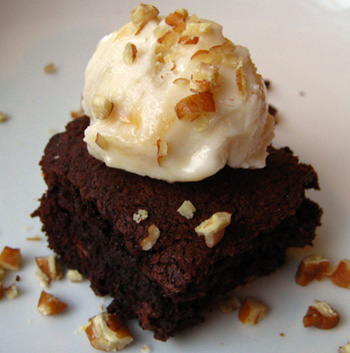 Brownies don't really do it for me. On their own, they seem a little boring, but top them with a scoop of soy ice cream and chopped nuts, and I'm all over them!
Below is an easy recipe for brownies. Top the brownies with a scoop or two of your favorite vegan ice cream, chocolate sauce, and nuts, and you'll have an easy vegan brownie à la mode. Enjoy!
Chocolate Walnut Brownies
Dry Ingredients
2 1/2 cups sugar
1 1/3 cups unbleached flour
1 1/3 cups whole wheat pastry flour
1 1/3 cups cocoa
2 Tbsp. Egg Replacer
2 tsp. salt
2 tsp. baking powder
1 cup walnuts
Wet Ingredients
6 oz. soft tofu
1/2 cup soybean oil
1 cup + 1 Tbsp. water
1 1/2 Tbsp. vanilla
•Preheat the oven to 350°F.
•In a medium bowl, sift together the dry ingredients except the walnuts.
•Mix all the wet ingredients in a blender until smooth. Add them to the dry ingredients, and fold in the walnuts. The batter will be thick.
•Pour into an oiled baking pan, and bake for 35 to 40 minutes or until a toothpick inserted in the center comes out clean.
Makes 12-16 servings
Respond