Braised Kale With Caramelized Onions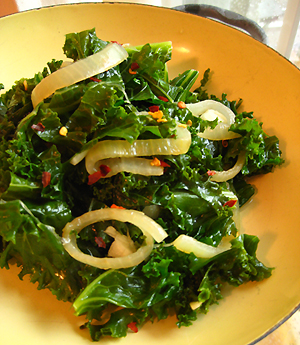 Kale is by far my favorite green, and it has been ever since I realized I liked any greens at all. This happened when I worked at Real Food Daily in Santa Monica, a premier organic vegan restaurant with a menu that features veggies of the day.
So with a new green on the menu daily, I began to experiment and try them all. I practically overdosed on mustard greens, collards, Swiss chard, and kale. Well, we did get free leftovers at the end of the night, so I couldn't resist. I loved them all, but kale definitely stood out as my favorite.
This is going to sound incredibly corny, but during this time I realized that I love not only the taste of the leafy green and the fact that it maintains its structure even when cooked until soft but also that each bite makes you feel incredibly healthy. This is no doubt because of the high vitamin and antioxidant content of kale.
I am a purist and love my kale just steamed with a little tamari (also a RFD influence), but every once in a while I like to do more. Below is a recipe for braised kale, but you can also try it in soup, veganized mashed potatoes, or a dip.
Braised Kale With Caramelized Onions
8 cups torn and stemmed kale pieces, firmly packed
1 Tbsp. olive oil
2 cups thinly sliced onions
1 tsp. salt
1/2 tsp. ground black pepper
1/2 tsp. red pepper flakes
2 Tbsp. minced garlic
2 cups vegetable stock
1 tsp. cider vinegar
In 2 batches, blanch the kale for 2 minutes in a 6- to 8-quart pot of boiling salted water. Transfer with tongs to a colander and drain well.
Heat the oil in a large skillet over medium heat. Add the onions, salt, pepper, and red pepper flakes and cook until the onions are golden brown, stirring frequently.
Add the garlic, kale, and stock and cook, stirring occasionally, for 8 to 10 minutes, or until tender.
Add the cider vinegar in the last minute of cooking, then remove from the heat. Serve immediately.
Respond