Blueberries in My Salsa?
This article was written by Keegan Baur.
Blueberries, avocados, cilantro, and jalapeños. If you think those ingredients don't belong together in one recipe, I'm here to tell you otherwise. When I first stumbled upon this Blueberry Avocado Salsa recipe from manifest:vegan, I, too, was surprised. However, I immediately became intrigued and knew that I had to try it. Now all I can say is, this salsa didn't disappoint—once I picked up a chip, I couldn't stop dippin'!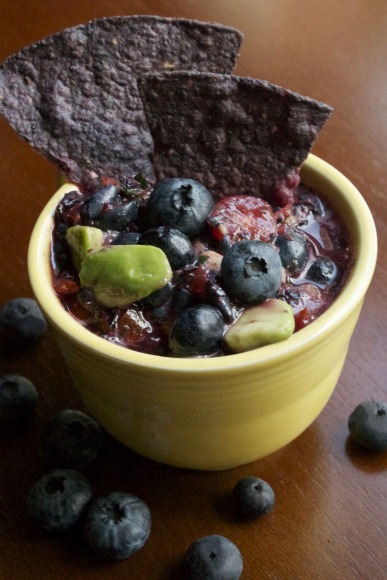 Blueberry Avocado Salsa
1 1/2 cups fresh, quartered tomatoes
2 cups fresh blueberries
2 Tbsp. lime juice, plus extra for drizzling onto the avocados
1/4 cup green onions, chopped
1/2 cup fresh cilantro
1 tsp. sea salt
1 Tbsp. chopped jalapeño pepper
1 ripe avocado, cut into small chunks
Pulse all the ingredients (except for the avocado) a few times in a food processor.
Cut up the avocado and drizzle with lime juice.
Stir in the chopped avocado with the rest of the salsa ingredients.
Add a touch more salt, if desired.
Serve immediately.
Respond