Black-Eyed Pea Fritters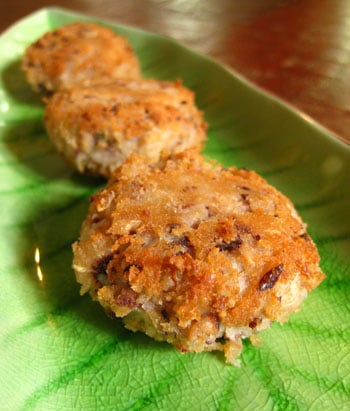 I can only read about soul food for so long before I have to make a dash for the kitchen to whip up some for myself. Since Vegan Soul Kitchen was the source of this sudden craving, it's only appropriate that I try out a recipe from Chef Bryant Terry's book.
After rummaging through my pantry, I found a can of black-eyed peas and decided to use them to make Terry's black-eyed pea fritters. I know, I know—his recipe calls for dried beans, and they are better for you and cheaper, but canned black-eyed peas still get the job done.
The recipe is fairly straightforward but includes a couple of unusual items that aren't normally found in fritters. One of them is peanuts. Also, I must admit that I did not use coconut oil and instead opted for plain ol' vegetable oil. Regardless, the fritters were still delicious.
Check out the recipe, which is on Terry's Web site. It comes complete with cute music, art, and book recommendations!
Respond